Tag: in Kanpur
'ISI-backed Train Accident Mastermind' Arrested In Nepal : NIA
The National Investigation Agency (NIA) on Tuesday confirmed that Dubai-based Shamshul Huda, who acted as "mastermind" for an ISI-backed plot to cause train accidents in India, was arrested by police in Nepal.....
CBI Raids Rotomac's Kanpur Properties
The CBI on Monday raided several locations in Kanpur in connection with a Rs 800 crore loan default by the Rotomac Pen company's chief Vikram Kothari, an official said.....
9 Dead, Dozen Critically Injured In Kanpur Building Collapse
The death toll in a building collapse in Kanpur in Uttar Pradesh rose to nine on Thursday, with two more labourers succumbing to their injuries, a police official said.....
Rajnath Singh Does Not Name Islamic State For MP Train Blast
Is the Islamic State behind the Bhopal-Ujjain passenger train blast in Madhya Pradesh? While the Madhya Pradesh police was quick to link the arrested suspects with the terror group, Union Home Minister Rajnath Singh in a statement in Lok Sabha on Thursday avoided any direct mention of the group.....
Rs 98 Crore Demonetised Currency Seized In Kanpur
Around Rs 98 crore in demonetised notes has been found in a businessman's house that was raided in Uttar Pradesh's Kanpur, police said on Wednesday. ....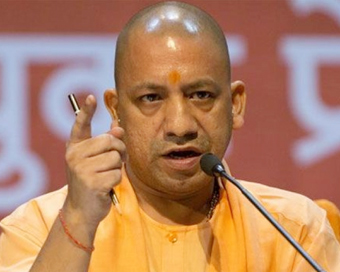 SIT To Probe 1984 Kanpur Riots, Cases To Be Reviewed
The Uttar Pradesh government has constituted a four-member Special Investigation Team (SIT) to probe the 1984 Sikh riots in Kanpur, in the aftermath of then Prime Minister Indira Gandhi's assassination, an official said on Wednesday.....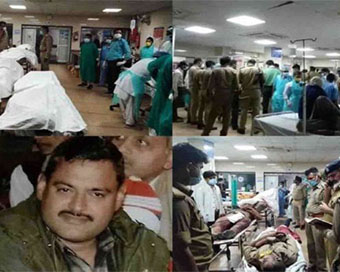 Eight Policemen Killed By Gangster In Kanpur
In a shocking incident, eight police personnel, including a circle officer, were shot dead and six policemen seriously injured when a local criminal, Vikas Dubey, and his gang sprayed them with bullets in Vikru village under Chaubeypur police circle in Kanpur in the wee hours of Friday.....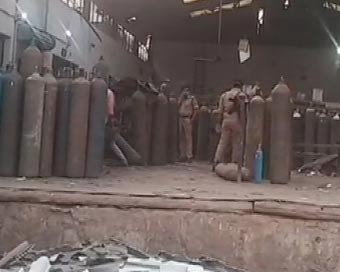 UP: One Killed In Oxygen Plant Blast In Kanpur
One person was killed and two others injured after an oxygen cylinder exploded during refilling at Panki oxygen plant in Dada Nagar industrial area here on Friday morning. ....
50 Feared Trapped In Kanpur Building Collapse
At least 50 persons, including women and children, are feared trapped under the debris of an under-construction building that collapsed here on Wednesday, police said. ....
Showing 1 to 9 of 9 (1 Pages)