Tag: in Andhra Pradesh
'ISI-backed Train Accident Mastermind' Arrested In Nepal : NIA
The National Investigation Agency (NIA) on Tuesday confirmed that Dubai-based Shamshul Huda, who acted as "mastermind" for an ISI-backed plot to cause train accidents in India, was arrested by police in Nepal.....
Sabotage Not Ruled Out In Andhra Derailment
Sabotage cannot be ruled out in the derailment of an Odisha-bound train in Andhra Pradesh as the area is a Maoist stronghold, a railway official said on Sunday.....
Indian Woman, Son Found Murdered In US
An Indian woman and her seven-year-old son were found dead in their home in New Jersey, according to the family in Andhra Pradesh.....
India To Launch 31 Satellites On Jan 10
India will launch 31 satellites, including the earth observation spacecraft Cartosat on January 10, from its spaceport at Sriharikota in Andhra Pradesh, an official said on Saturday. ....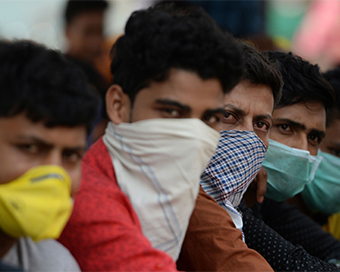 Andhra Reports First Case Of Local Coronavirus Transmission
Andhra Pradesh on Sunday reported first case of local transmission of Covid-19 as a woman, a close contact of a man tested positive earlier, was found infected. ....
Rajnath To Lay Foundation Stone For New NDRF Campus In Andhra
Union Home Minister Rajnath Singh will lay the foundation stone of the new campus of National Disaster Response Force (NDRF) in Krishna district of Andhra Pradesh on January 9, an official statement said on Friday.....
Hirakhand Express Derails In Andhra, 25 Killed
At least 25 people were killed and 100 others were injured as eight coaches of the Jagdalpur-Bhubaneswar Hirakhand Express derailed near Kuneru station in Vizianagaram district of Andhra Pradesh late Saturday night, officials said.....
Jallikattu Style Protest Planned In Andhra, Says CM
The Jallikattu protest in Tamil Nadu has inspired the opposition in Andhra Pradesh to create disturbances to seek special status to the state, Chief Minister N. Chandrababu Naidu said on Monday. ....
NIA To Probe IED On Rail Track In Bihar, Forms Team
The Union Home Ministry has handed over to the National Investigation Agency (NIA) the probe into the seizure of an improvised explosive device near a rail track in Bihar's Ghorasahan on October 1, 2016. The agency has since formed an investigation team led by an Inspector General-rank officer.....
Spanish Firm To Facilitate 2,500 MW Renewable Power In Andhra
Spanish wind turbine-maker Gamesa will facilitate around Rs 17,500 crore investment in Andhra Pradesh in wind, solar and wind-solar hybrid power projects, said a top official of the company's Indian subsidiary.....