Tag: heavy snowfall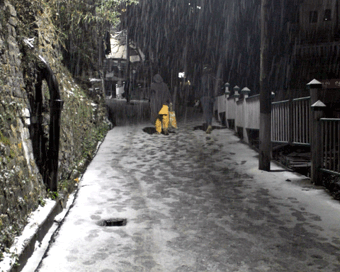 Shimla, Manali Cut Off After Snow, Traffic Hampered
Traffic to tourist destinations Shimla, Manali and Dalhousie were cut off from the rest of Himachal Pradesh on Saturday following heavy snowfall overnight, officials said. ....
Five Killed, Four Injured In Two Avalanches In Kashmir
An army officer was killed and four other soldiers injured on Wednesday when an avalanche hit an army camp in Jammu and Kashmir in Ganderbal district, while four of a family died after their house was buried under the snow in Bandipora district, said officials.....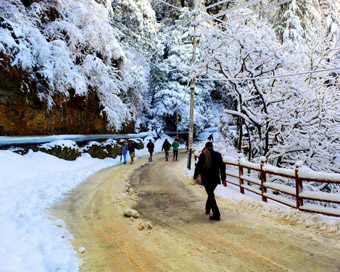 Electricity Back In Kashmir After Heavy Snowfall
Power supply was restored on Sunday to 90 per cent of Srinagar city and most rural areas of the Kashmir Valley after overnight heavy snowfall damaged transmission towers and snapped surface and air links with the rest of India.....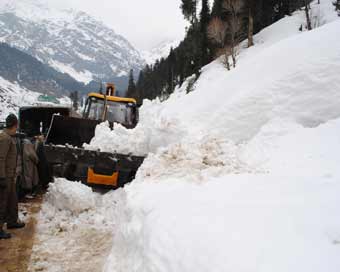 10 Missing After Avalanche Hits Jammu-Srinagar Highway
Ten people were reported missing after an avalanche hit the Jammu-Srinagar highway. The strategic 300 km-long road remained closed for the third consecutive day on Friday due to heavy snowfall and landslides, police said.....
Over 600 Flights Cancelled In Turkey Due To Snowfall
Heavy snowfall and bad weather conditions forced Turkey's flagship airline company Turkish Airlines to cancel 633 domestic and international flights, with Istanbul particularly affected on Sunday.....
Manali Hills Wrapped In Snow
The hills near Manali in Himachal Pradesh on Friday recieved snow, a weather official said.....
Heavy Snowfall In Shimla, Manali
Shimla, Manali, Dalhousie still cut off, tourists stranded....
Icy Winds Add To The Winter Bite In Uttar Pradesh
Icy winds at many places in Uttar Pradesh intensified the cold wave in the state on Wednesday, with heavy snowfall in many parts of neighbouring Uttarakhand also contributing to the fall in mercury.....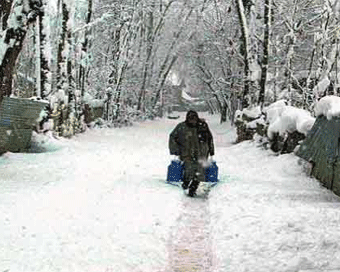 Cold Wave Sweeps Uttarakhand
Following heavy snowfall in many regions, an intense cold wave in Uttarakhand have forced people to stay indoors as the mercury plummeted below average in most places.....
Bountiful And 'snowful', Winter Reclaims Its Glory In Kashmir
Heaps of snow, razor-sharp icicles, the cackle of low-flying geese and the warmth of families huddled together to ward off the cold -- all these are markers of a great winter in Kashmir.....