Tag: fake news
Nipah Outbreak Contained, Says Kerala, Cyber Police File Fake News Case
Kerala Health Minister K.K. Shailaja on Wednesday said that the outbreak of Nipah virus (NiP), which has claimed 10 lives, has been contained and there was no need to panic.....
Fake News Is Enemy Of The People: Trump
Continuing his battle with mainstream media outlets, US President Donald Trump slammed "fake news" and said journalists should not be allowed to publish stories based on anonymous sources.....
Rahul Discusses Fake News, Climate Change With Macron
Congress President Rahul Gandhi met French President Emmanuel Macron on Sunday and said they discussed issues common to both democracies including fake news and looked forward to collaborating with him on climate change.....
Modi Withdraws Order Threatening Scribes Over Fake News
After widespread criticism, Prime Minister Narendra Modi on Tuesday withdrew within hours his government's order that threatened to take away the accreditation of journalists found propagating fake news.....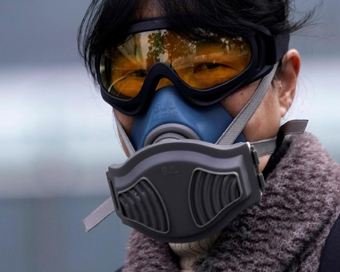 Coronavirus: Fake News Makes Disease Outbreaks Worse
The novel coronavirus (COVID-19) has claimed over 1,300 lives in China and the rise of fake news could be making disease outbreaks worse, say researchers, adding that efforts to stop people sharing false news, misinformation and harmful advice on social media could save lives. ....
Facebook Lifts Ban, Allows RT To Post Content
After an "unexplained" 20-hour ban on Russian television network RT posting content on its Facebook page till Donald Trump takes oath as US President, the social networking giant on Friday lifted the restriction, allowing RT to go live.....
Facebook Logs Impressive Growth Despite Fake News Scandal
Defying the massive fake news scandal that hit the social networking giant during the US presidential election as well as analysts, Facebook has registered strong growth in its mobile advertising business, with total revenue reaching $8.8 billion from $5.84 billion last year.....
Facebook Launches 'disputed' Tag To Crack Down On Fake News
Social media giant Facebook has launched its much hyped "fake news" crackdown initiative in the US, tagging as "disputed" the stories that are deemed false by fact checking organisations, media reported on Sunday.....
New German Law To Curb Hate Speech On Facebook, Twitter
The German Justice ministry is planning to frame a new law that will force social networking sites to curb fake news and hate speech.....
'Fake News' Word Of The Year For 2017
The Collins English Dictionary has called the term "fake news", frequently used by US President Donald Trump, as 2017's Word of the Year due to its "ubiquitous presence", the media reported on Thursday.....