Tag: election campaign
Akhilesh Kicks Off Election Campaign
Uttar Pradesh Chief Minister Akhilesh Yadav on Tuesday kicked off the Samajwadi Party's election campaign by promising to provide better living conditions if he was re-elected.....
Modi's Campaign All About Himself: Chidambaram
Congress leader P. Chidambaram on Tuesday accused Narendra Modi of forgetting that he was the Prime Minister of the country and said his whole election campaign in Gujarat was about himself and his past.....
Congress Politics Blocked Development In Karnataka, Says Modi
Prime Minister Narendra Modi on Tuesday lamented that all development in Karnataka has been blocked by the ruling Congress due to its obsession with family politics.....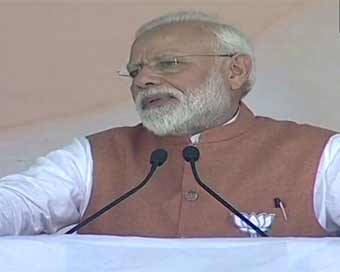 Modi Flays Opposition Over Surgical Strikes, Mission Shakti
Prime Minister Narendra Modi on Thursday attacked the opposition parties for raising questions over India's air strikes against Pakistan and its capabilities in the space. ....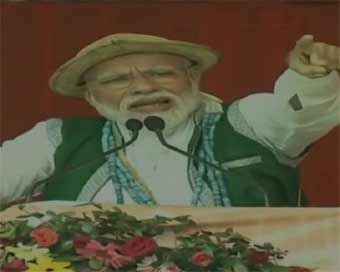 Corruption Keeps Congress' Grand Alliance United: Modi
Launching a scathing attack on the Congress, Prime Minister Narendra Modi on Saturday said that it was corruption that kept the opposition parties united against him.....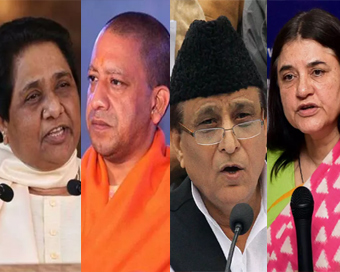 EC Cracks Whip, Bars Yogi, Mayawati, Azam, Maneka
After Bahujan Samaj Party (BSP) chief Mayawati and UP Chief Minister Yogi Adityanath, the Election Commission (EC) on Monday barred Union Minister Maneka Gandhi and Samajwadi Party leader Mohammed Azam Khan from campaigning in the Lok Sabha elections for 48 houres and 72 hours, respectively.....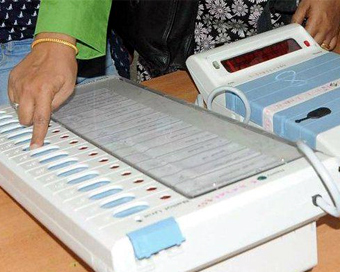 Third Phase Polling On Tuesday Across 15 States
People in 15 states will vote on Tuesday in the third phase of Lok Sabha elections scheduled for Tuesday which will see a maximum of of 117 seats going to the polls in a single phase of seven-phased election.....
EC Tells Political Parties Not To Use Photos Of President, VP, Governors
The Election Commission on Tuesday directed all political parties to desist from displaying photographs of President and Vice President of India and Governors of the states in their election campaigns.....
Sonia Not In Rae Bareli Campaign Schedule
Congress President Sonia Gandhi, who has not campaigned in the ongoing Uttar Pradesh elections, didn't figure in the party's campaign schedule for Tuesday -- the last day to seek votes for the fourth phase of balloting on Thursday.....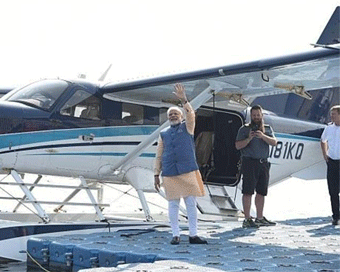 Modi Takes Seaplane On Last Day Of Gujarat Campaign
Prime Minister Narendra Modi on Tuesday flew by a seaplane from the Sabarmati river here to Dharoi in Mehsana district on the last day of the election campaign in Gujarat.....