Tag: doctors
4,000 Maharashtra Resident Doctors Go On Mass Leave
Medical services in 17 government hospitals were disrupted on Monday when over 4,000 resident doctors went on a mass Casual Leave to protest growing incidents of attacks by patients' relatives.....
3,000 Maharashtra Resident Doctors Remain On Mass Leave
For the second consecutive day on Tuesday medical services in 17 government hospitals in Maharashtra, including four in Mumbai, were hit when over 3,000 resident doctors continued their mass Casual Leave protest against growing incidents of attacks by patients' relatives.....
Bombay HC Orders Striking Doctors To Resume Work Immediately
Cracking the whip, the Bombay High Court on Thursday ordered all striking doctors in government-run hospitals to return to work immediately....
Enough Is Enough, Maharashtra CM To Medicos
Maharashtra Chief Minister Devendra Fadnavis on Friday appealed to the agitating medicos to return to duty as his government had accepted their demands.....
Maharashtra Doctors End Agitation, 135 Patients Die
Following a stern warning by the Bombay High Court on Friday, doctors in government and private hospitals across Maharashtra agreed to withdraw their agitation amid revelations that at least 135 patients died in Mumbai in the past five days. ....
Karnataka Private Doctors Return To Work; Treat Out-patients
Private doctors across Karnataka were back to work on Saturday and began treating out-patients after they called off their five-day strike on Friday.....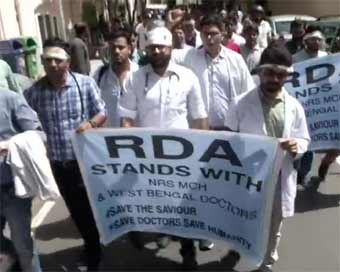 Doctors Across India On Day-long Strike In Solidarity With Kolkata Medicos
The doctors' strike that started in Kolkata earlier this week has now spread across India with the doctors' association of AIIMS showing full support to their West Bengal colleagues.....
Doctors Go On Strike In Himachal
Patient care services in all government hospitals and dispensaries in Himachal Pradesh were affected badly as doctors went on a day-long strike on Monday.....
Despite Bombay HC Rap, Maharashtra Doctors Continue Agitation
Despite a strong rap by the Bombay High Court, around 3,000 resident doctors in government hospitals in Maharashtra continued their mass casual leave agitation for the third day on Wednesday.....
40,000 Delhi Doctors On Mass Casual Leave To Protest Rising Assaults
Over 40,000 resident doctors in the national capital went on a mass Casual Leave on Thursday in support of their counterparts in Maharashtra who are on similar protest following rising assaults.....