Tag: assembly polls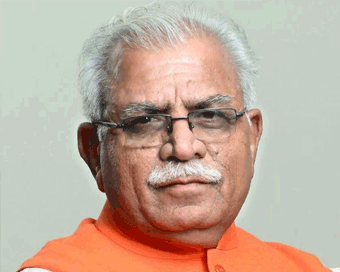 Haryana CM Lauds Call For Simultaneous Lok Sabha, Assembly Polls
Haryana Chief Minister Manohar Lal Khattar on Sunday lauded the proposal of Prime Minister Narendra Modi to hold simultaneous elections to the Lok Sabha and state assemblies.....
Wrongly Accused, Have Nothing Against Akhilesh: Amar Singh
Caught in the cross-fire of a raging war between Samajwadi Party supremo Mulayam Singh Yadav and his son Akhilesh Yadav, Amar Singh on Friday said he was not against the Chief Minister and was being blamed for no rhyme or reason.....
No Dispute Between Akhilesh And Me: Mulayam
Samajwadi Party patriarch Mulayam Singh Yadav on Monday insisted there were no differences between him and his son and Uttar Pradesh Chief Minister Akhilesh Yadav.....
Will SP's 'cycle' Be Frozen?
With both factions of the Samajwadi Party demanding the 'cycle', it increasingly appears that the election symbol of 25 long years may get frozen.....
Mualayam Informs Rajya Sabha Of Ram Gopal's Expulsion
Samajwadi Party chief Mulayam Singh Yadav has written to the Rajya Sabha Chairman informing him about expulsion of Ram Gopal Yadav, a member of the upper house, an official said.....
EC Censures Sakshi Maharaj For Population Boom Remarks
The Election Commission on Thursday censured BJP MP Sachchidanand Hari Sakshi, better known as Sakshi Maharaj, for his controversial statements in which he blamed 'Muslims' for India's population boom.....
Akhilesh Meets Father Twice As Mulayam Mulls Next Move
Even as SP patriarch Mulayam Singh Yadav is believed to be mulling his next move subsequent to the EC declaring his son and UP Chief Minister Akhilesh Yadav as the party President, the latter has already called on his father twice since Monday evening.....
Punjab Polls: No Cake-walk For Badals This Time
With the Punjab assembly polls turning into a three-horse race for the first time, Chief Minister Parkash Singh Badal and his son and deputy, Sukhbir Singh Badal, face the most serious electoral challenge of their careers.....
SP-Congress Alliance: Will 'hand'-shake Warm Up UP Voters?
The electoral pact between the ruling Samajwadi Party (SP) and the Congress is a done thing now. But as both parties work out the finer details of the alliance, likely to be announced any time now, the winnability of the combination in a state as complex as Uttar Pradesh is in question.....
BJP List: Rajnath's Son To Contest In Noida
The BJP on Sunday released its second list of 155 candidates for the Uttar Pradesh assembly polls, fielding Home Minister Rajnath Singh's son Pankaj Singh from Noida.....