Tag: VVPAT machines
Centre Not Providing Funds To Buy VVPAT Machines: Congress
Senior Congress leader Ghulam Nabi Azad on Wednesday said that the Narendra Modi government was not providing funds to the Election Commission (EC) to buy VVPAT machines despite the apex court's orders, raising doubts about its intentions.....
Himachal To Vote On Nov 9, No Dates For Gujarat Yet
Himachal Pradesh will go to polls on a single day on November 9 to elect a new assembly, the Election Commission announced on Thursday without finalising a schedule for Gujarat, drawing sharp criticism from the Congress which accused the Centre of putting pressure on the poll panel. ....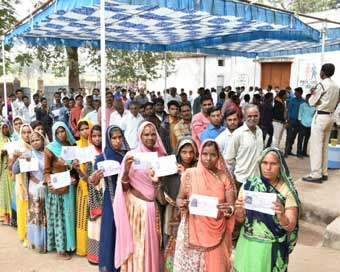 MP Votes: Faulty EVMs, VVPAT Machines Cause Glitches
Polling is underway for the 230-member Madhya Pradesh Assembly on Wednesday. Several faulty EVMs and VVPAT machines have been replaced within the first hour, officials said.....
Showing 1 to 3 of 3 (1 Pages)