Tag: Uttar Pradesh
SP-Congress Alliance: Will 'hand'-shake Warm Up UP Voters?
The electoral pact between the ruling Samajwadi Party (SP) and the Congress is a done thing now. But as both parties work out the finer details of the alliance, likely to be announced any time now, the winnability of the combination in a state as complex as Uttar Pradesh is in question.....
Priyanka Negotiated Deal With SP, Says Congress
In what could be seen as an announcement of Priyanka Gandhi's arrival, several senior Congress leaders on Sunday acknowledged the role of Priyanka Gandhi Vadra in striking an alliance with the Samajwadi Party (SP) in Uttar Pradesh.....
Weakened Congress Rides On SP Cycle: BJP
The Congress is so weakened that it is riding on Akhilesh Yadav's 'cycle' in Uttar Pradesh, Union Minister for Information and Broadcasting M. Venkaiah Naidu said on Sunday.....
BJP List: Rajnath's Son To Contest In Noida
The BJP on Sunday released its second list of 155 candidates for the Uttar Pradesh assembly polls, fielding Home Minister Rajnath Singh's son Pankaj Singh from Noida.....
Mulayam's Second Daughter-in-law In SP List
The Samajwadi Party has fielded Aparna Yadav, wife of Uttar Pradesh Chief Minister Akhilesh Yadav's step-brother Prateek Yadav, from Lucknow Cantt.....
Akhilesh Kicks Off Election Campaign
Uttar Pradesh Chief Minister Akhilesh Yadav on Tuesday kicked off the Samajwadi Party's election campaign by promising to provide better living conditions if he was re-elected.....
Gujarat CM Says Ram Temple On Party's Agenda
Gujarat Chief Minister Vijay Rupani on Wednesday asserted that construction of Ram Temple in Ayodhya was on the agenda of the BJP, a day after the party's Uttar Pradesh unit chief Keshav Prasad Maurya spoke of the temple but retracted later.....
Good, Bad, Ugly: Health Of 5 States Going To Polls
While healthcare has largely been a neglected issue in past general elections, major parties started talking about health in their manifestos from 2004.....
Akhilesh Urges Modi To Postpone Budget In View Of Elections
Uttar Pradesh Chief Minister Akhilesh Yadav on Friday wrote to Prime Minister Narendra Modi and requested him to postpone the presentation of the general budget in view of the assembly elections.....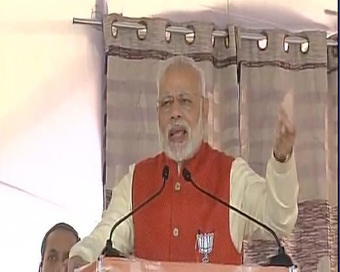 Congress A Sinking Ship, Is History, Says Modi
Dubbing the Congress as a "sinking ship" and "history", Prime Minister Narendra Modi on Friday called upon voters not to vote for the opposition party in the coming assembly elections in five states.....