Tag: United Nations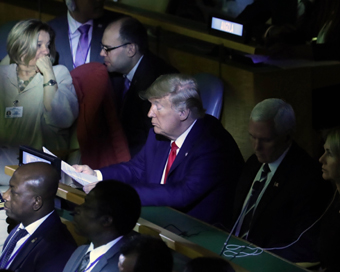 Trump Makes Unexpected Visit To Climate Summit As Modi Speaks
Did Prime Minister Narendra Modi influence US President Donald Trump to listen to the message of fighting climate change?....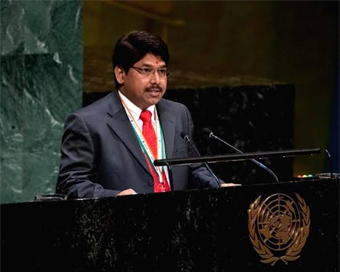 India Seeks Closer Cooperation Between UN, FATF To Fight Terror Funding
India has asked the world body to increase its cooperation with the Financial Action Task Force (FATF) and similar organisations that fight the financing of terrorists.....
India Raps Pakistan On Support To Terror
India on Wednesday slammed Pakistan for abetting cross-border terrorism and said Islamabad's continued support to terror groups is the "main challenge" for New Delhi.....
Russia Vetoes UN Resolution On Syria Chemical Attack
Russia on Wednesday vetoed a UN resolution that would have required Bashar al-Assad's government to co-operate with international inquiries into last week's chemical attack in Syria.....
UN Chief 'paying Attention' To Kashmir Border Tension: Spokesperson
Secretary-General Antonio Guterres is "paying attention" to the India-Pakistan border tension, but UN observers have not received any reports from India about any recent ceasefire violations, Spokesperson Stephane Dujarric said Tuesday.....
China Again Blocks UN Move To Ban Jaish Chief
China on Thursday blocked a US resolution seeking to declare Pakistan-based Jaish-e-Mohammad chief Masood Azhar a global terrorist. ....
Committed To Improve Sanitation Facilities: Modi
On World Toilet Day on Sunday, Prime Minister Narendra Modi reaffirmed his government's commitment towards improving sanitation facilities across the nation.....
14 UN Peacekeepers Killed In Democratic Republic Of Congo
Fourteen peacekeepers from Tanzania have been killed in the Democratic Republic of Congo (DRC) in what United Nations Secretary General Antonio Guterres said Friday was "the worst attack on UN peacekeepers in the Organization's recent history".....
Trump Will 'go To Great Lengths' To Stop Pakistan Aid: Nikki Haley
US President Donald Trump will go all out to cut off aid to Pakistan if it continues to back terrorists, US Permanent Representative Nikki Haley has warned.....
Sex Assault On Infant, Girl In India, Pakistan 'heart-breaking': UN Spokesperson
Sex assaults on an infant in India and on a girl in Pakistan are "heart-breaking" but the "scourge" of violence against girls affects all countries, Stephane Dujarric, the spokesperson for UN Secretary-General Antonio Guterres has said.....