Tag: Union Home Minister Rajnath Singh
Convince UNC Leaders To Withdraw Economic Blockade: Rajnath
Union Home Minister Rajnath Singh has asked the Nagaland Chief Minister T.R. Zeliang to convince the United Naga Council (UNC) leaders to withdraw the economic blockade in Manipur.....
Prime Minister Greets People On Holi
Prime Minister Narendra Modi on Monday extended his greeting to the countrymen on the occasion of Holi, wishing the festival "spread joy and warmth everywhere".....
Ensure Good Food For Paramilitary Troopers, Rajnath Tells Officials
Union Home Minister Rajnath Singh on Wednesday directed chiefs of all paramilitary forces to ensure good food for their respective troopers, an official said.....
Lok Sabha Witnesses Repeated Adjournments Over Tarun Vijay's Remarks
The opposition led by the Congress party created pandemonium in the Lok Sabha on Monday demanding action against former BJP MP Tarun Vijay over his controversial remarks related to south Indians.....
Only Few Indians Influenced By IS-ideology: Rajnath
Compared to other nations, only a few Indians are influenced by the terror group Islamic State's (IS) ideology, thanks to the country's social and communal harmony, Union Home Minister Rajnath Singh said on Monday. ....
Tripura Governor To Submit Report To Rajnath On Journalist's Killing
Tripura Governor Tathagata Roy will submit a report to Union Home Minister Rajnath Singh on the killing of a journalist by a Tripura State Rifle (TSR) trooper on Tuesday.....
No Plan To Change Reservation Policy: Government
The government has no plan to do away with quota policy for Dalits and tribes, Union Home Minister Rajnath Singh said on Tuesday.....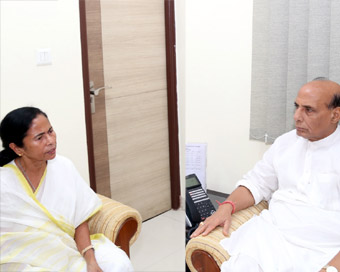 Nobody Will Be Harassed In NRC Process: Rajnath To Mamata
Union Home Minister Rajnath Singh on Tuesday assured visiting West Bengal Chief Minister Mamata Banerjee that nobody will be harassed in Assam's National Register of Citizens (NRC) updation process and that it was published in line with the provisions of Assam Accord.....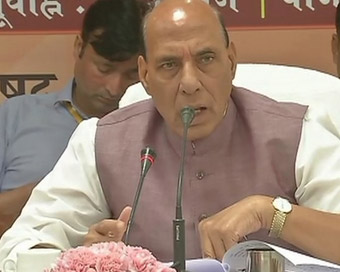 Our Differences With Rahul Are Political, Not Personal: Rajnath
Union Home Minister Rajnath Singh on Monday said the BJP's differences with Congress President Rahul Gandhi were "political and nor personal" in nature. ....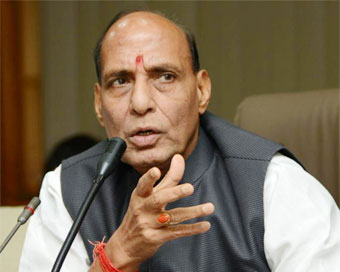 Rajnath Holds Meeting With RAW Chief, NSA, Other Security Officials
Union Home Minister Rajnath Singh on Saturday held a meeting with RAW chief A. K. Dhasmana, Additional Director IB Arvind Kumar, Home Secretary Rajiv Gauba and NSA Ajit Doval in the wake of the Pulwama terror attack that left 49 CRPF troopers dead.....