Tag: UPA
Massive Protest Against Jallikattu Arrests In TN
Hundreds of people in Tamil Nadu took to the streets on Tuesday against the arrest of those who have demonstrated in favour of Jallikattu. ....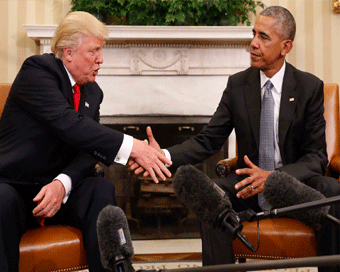 50 Top Obama Officials To Work For Trump Administration
About 50 top officials who have been working in outgoing US President Barack Obama's administration will continue serving in those positions for Donald Trump's incoming government, future White House spokesman Sean Spicer said on Thursday.....
Gujarat CM Says Ram Temple On Party's Agenda
Gujarat Chief Minister Vijay Rupani on Wednesday asserted that construction of Ram Temple in Ayodhya was on the agenda of the BJP, a day after the party's Uttar Pradesh unit chief Keshav Prasad Maurya spoke of the temple but retracted later.....
US Court Blocks Trump Order On Muslim Immigration
A federal court here blocked part of US President Donald Trump's immigration order banning citizens from seven Muslim majority countries from entering the US.....
Modi Greets NDRF On Its 12th Raising Day
Prime Minister Narendra Modi on Tuesday commended the National Disaster Response Force (NDRF) for its efforts in disaster response, rescue and relief.....
Big Mistake If Budget Not Postponed: Congress
Contending that passing the Union budget was "not inevitable", Congress leader Mallikarjun Kharge on Wednesday said not adjourning the Parliament following the death of former Union Minister E. Ahamed, will be a big mistake.....
UPA, NDA Treat Me Like Football: Mallya
Former Kingfisher Airlines chief Vijay Mallya on Friday said he was being treated like a "football" between the NDA and the UPA governments without "refrees".....
Only Manmohan Singh Can Teach How To Bathe With Raincoat On: Modi
Prime Minister Narendra Modi on Wednesday said former Prime Minister Manmohan Singh knew the "art of bathing wearing a rain coat", creating a huge uproar in the Congress benches in Rajya Sabha.....
Remember What Your Mother Called Modi, Shah Tells Rahul
Amid the uproar over Prime Minister Narendra Modi's 'raincoat' barb at his predecessor Manmohan Singh, BJP President Amit Shah on Thursday told Congress Vice President Rahul Gandhi to recall what his mother called Modi in the past. ....
Presidential Election: Joshi, Sushma Among Probables
Who will be India's next President? Initial discussions in the BJP have catapulted veteran party leader Murli Manohar Joshi and External Affairs Minister Sushma Swaraj as top favourites.....