Tag: Thailand
Global Software Giants From India In 5-10 Years: Pichai
Google CEO Sundar Pichai on Thursday expressed confidence that big global software companies will start emerging from India in the next five to 10 years.....
Medanta Air Ambulance Crash-lands In Thailand
An air ambulance, hired by Medanta Hospital, had crashlanded near Bangkok on Sunday, killing one of its pilots, External Affairs Minister Sushma Swaraj said on Monday.....
Twin Bombings In Thailand Injure 58
At least 58 people were injured on Tuesday in two successive explosions at a shopping mall in southern Thailand's Pattani province, officials said.....
Bengal Business Meet Nets Over Rs 2 Lakh Cr Investment Proposals
The two-day Bengal Global Business Summit organised by the state government has received investment proposals worth Rs 2,35,290 crore, Chief Minister Mamata Banerjee announced here on Saturday.....
Foreigners Arrested For Sex Racket In Gurugram
Haryana Police on Sunday said they have arrested six women, including two foreigners, and a man for operating a sex racket from a spa in Gurugram. ....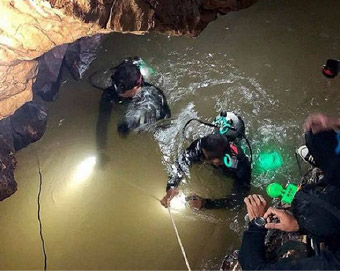 Diver Dies During Thai Cave Rescue Operation
A former Thai Navy diver who joined an ongoing operation to rescue 12 boys and their coach from a cave in northern Thailand died on Friday.....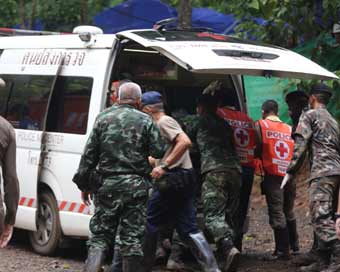 Thailand Gears Up For Second Day Of Cave Rescue
Thai authorities on Monday were preparing for the second day of the rescue of the remaining nine boys trapped for more than two weeks in a cave in northern Thailand following a successful first operation in which four were taken out alive.....
China See Surge In Tourist Numbers
China witnessed a surge in tourist numbers on Friday, the first day of the week-long Lunar New Year holiday, official data showed on Saturday.....
India Beat Thailand By Nine Wickets In Women's World Cup Qualifier
Indian eves defeated Thailand by nine wickets in Group A of the International Cricket Council (ICC) Women's World Cup Qualifier at the Colombo Cricket Club Ground here on Wednesday.....
Malaysia Plans Measures To Attract More Indian Tourists
Concerned over Malaysia losing Indian tourists to other South-East Asian countries in recent years, the Malaysian government has come up with certain measures to check the fall in numbers and plans to make further investment to attract more tourists. ....