Tag: TMC MP
Sudip Bandyopadhyay Admitted To Odisha Jail Hospital
Trinamool Congress (TMC) MP Sudip Bandyopadhyay was admitted to a jail hospital in Odisha following a court order, said an official on Friday.....
AI Flight Delayed -- This Time TMC MP Blows Fuse
An Air India flight was delayed by nearly 40 minutes at the Indira Gandhi International (IGI) Airport here on Friday as Trinamool Congress (TMC) Rajya Sabha member Dola Sen created a fuss over seating arrangement.....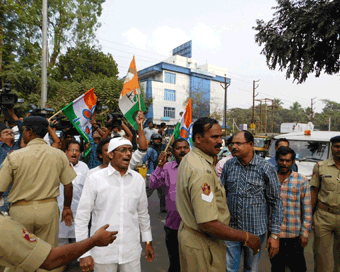 Political Storm Continues Over Bandyopadhyay's Arrest, TMC MPs Stage Protest
The political storm after the arrest of Trinamool Congress MP Sudip Bandyopadhyay continued on Thursday as party MPs staged a protest march here to the Prime Minister's Office (PMO) but were detained on their way.....
TMC Protests Against Modi's 'vendetta Politics'
Trinamool Congress MP on Friday protested against the Narendra Modi government in the Parliament House complex on Friday, alleging that it was indulging in "vendetta politics" in a probe into a chit fund scam.....
Lok Sabha Stalemate Continues, House Adjourned For The Day
The Lok Sabha stalemate continued for the seventh consecutive day on Tuesday amid continuing protests, forcing Speaker Sumitra Mahajan to adjourn the House for the day.....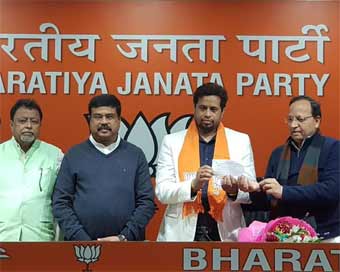 TMC MP Saumitra Khan Joins BJP
In a setback to West Bengal Chief Minister Mamata Banerjee ahead of the Lok Sabha polls, Trinamool Congress (TMC) MP Saumitra Khan on Wednesday joined the Bharatiya Janata Party (BJP).....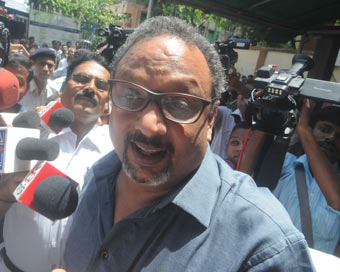 CBI Cross-examines TMC MP, Samuel In Narada Case
The Central Bureau of Investigation (CBI) here on Wednesday cross-examined Trinamool Congress (TMC) MP K.D. Singh, Narada News Managing Director Mathew Samuel and others regarding the sting operation, which showed around a dozen of TMC leaders, including MPs and Ministers in Bengal, allegedly accepting bribes.....
Showing 1 to 7 of 7 (1 Pages)