Tag: Supreme Court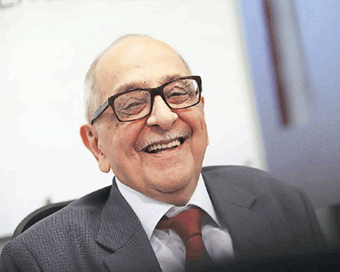 Anil Divan Replaces Nariman To Suggest BCCI Administrators
The Supreme Court on Tuesday appointed senior counsel Anil Divan in place of Fali Nariman for recommending names of the administrators to oversee and supervise the functioning of the BCCI. ....
SC Refuses 'urgent' Plea On Deferring Budget
The Supreme Court on Friday refused an urgent hearing on a plea seeking that the Union Budget for 2017-18 be deferred till April.....
No Law To Bar Centre From Advancing Budget: SC
The Supreme Court on Friday said there was nothing in the law that could bar the government from advancing the date for the presentation of the annual budget for the year 2017-18.....
Sit On Dharna For Higher Compensation To Suicide Victims' Kin: SC
The Supreme Court on Friday counselled a petitioner organisation to sit on dharna in support of its demand for higher compensation for the kin of all those committing suicide, similar to Rs 1-crore compensation given to the family of an OROP agitation 'martyr'.....
SC Allows 24-week Pregnant Woman To Abort
The Supreme Court on Monday allowed a Mumbai-based woman with 24-week-old-foetus to undergo medical termination of pregnancy as its continuation could endanger her life.....
SC Not To Pronounce Jallikattu Verdict For A Week
The Supreme Court on Friday agreed not to pronounce its verdict on Jallikattu for one week in the wake of large scale protests in Tamil Nadu against the ban on the bull-taming sport.....
Tamil Nadu Legalises Jallikattu With A New Law
Tamil Nadu on Monday passed a law legalising the conduct of Jallikattu - the popular bull taming sport - in the state which was banned by the Supreme Court in 2014.....
SC Allows Officials To Serve State Bodies, BCCI For 9 Years Each
The Supreme Court on Friday modified its earlier order to allow any official to be an office bearer of the Board of Control for Cricket in India (BCCI) or state association for nine years each.....
Lodha Suggestions For Other Sports Bodies
The Supreme Court on Monday sought the central government's response to a plea that the recommendations of the Justice Lodha Committee for organisational reforms in the Indian cricket board should be extended to all other national sports bodies.....
If BJP Wins UP, Will Consult Muslim Women On Triple Talaq: Shah
BJP President Amit Shah on Saturday raked up the 'triple talaq' issue ahead of the Uttar Pradesh assembly elections and said if the party wins, it will seek the opinion of the state's Muslim women and approach the Supreme Court accordingly.....