Tag: Shivpal Yadav
Akhilesh Ousts Mulayam As SP Chief, Takes Over Party
In a coup of sorts, Uttar Pradesh Chief Minister Akhilesh Yadav on Sunday named himself the new head of the Samajwadi Party even as his supporters stormed the party's state headquarters.....
Mulayam Flies To Delhi To Claim 'cycle'
Samajwadi Party supremo Mulayam Singh Yadav on Thursday left for New Delhi to again stake his claim on the party symbol, the 'cycle'.....
Shivpal Meets Akhilesh Yadav
In an apparent last minute attempt to end the internal war in the Samajwadi Party, party leader Shivpal Yadav on Friday met Uttar Pradesh Chief Minister Akhilesh Yadav.....
EC To Decide Fate Of 'cycle' Today
The Election Commission is expected to announce on Monday its decision on the demand for 'cycle' symbol by the two warring factions of the Samajwadi Party.....
Akhilesh A Tainted Leader, A Complete Failure: Mayawati
Bahujan Samaj Party (BSP) supremo Mayawati on Monday called Uttar Pradesh Chief Minister Akhilesh Yadav a "tainted leader" who had not done anything for the poor, weaker sections and farmers of the state.....
Akhilesh Has Destroyed UP : PM Modi
Prime Minister Narendra Modi on Wednesday expressed alarm over the law and order situation in Uttar Pradesh and accused the states ruling Samajwadi Party of sheltering criminals.....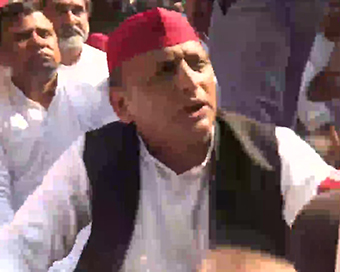 Lakhimpur Kheri Violence: Akhilesh Yadav, Ram Gopal Yadav, Shivpal Yadav Arrested In Lucknow
Samajwadi Party President Akhilesh Yadav, party MP Prof Ram Gopal Yadav and former UP minister Shivpal Yadav have been arrested for violation of Section 144 in Lucknow. ....
Sacrifice Or Helplessness: What Will Lead To An End Of Infighting In SP?
Intense turmoil within Samajwadi Party may result in anything anytime now…Amar Singh may go or Shivpal Yadav may tow the line. But what is real reason behind the so-called-sacrifices....
EC Reserves Its Order Over SP Party Symbol
Election Commission reserves its order in Samajwadi party's case; EC hearing lasted for over four hours.....
Aligning With SP Is Congress' Political Bankruptcy: Mayawati
Taking on Chief Minister Akhilesh Yadav over corruption and 'tacit understanding' with the BJP, BSP supremo Mayawati on Saturday said the Congress bid to align with the ruling SP for the Uttar Pradesh assembly polls was a reflection of its political bankruptcy.....