Tag: Samsung
Samsung Heir Lee Jae-yong Arrested In South Korea
Samsung's heir apparent Lee Jae-yong has been placed under arrest in South Korea, accused of bribery and other charges, the media reported.....
Samsung Heir Denies Criminal Charges At Trial
Samsung Group heir Lee Jae-yong denied bribery and other criminal charges filed by special prosecutors in the corruption scandal involving President Park Geun-hye, at his first court hearing in Seoul on Thursday.....
Samsung Unveils New Galaxy A Series Smartphones
Samsung Electronics on Monday launched the latest Galaxy A series smartphones with the enhanced front and rear 16-megapixel cameras. ....
Samsung Gear S3 Smartwatch Launched In India At Rs 28,500
Gearing up to strengthen its wearable category in the country, Samsung India on Tuesday unveiled Gear S3 smartwatch which will be available for Rs 28,500. ....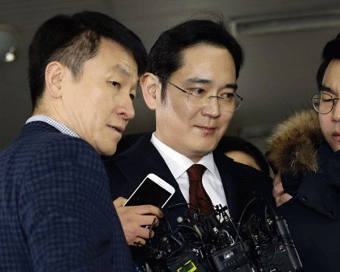 Samsung Heir's Marathon Questioning Ends
Samsung heir Lee Jae-yong, returned home on Friday after facing marathon questioning by prosecutors all night about his possible involvement in a corruption scandal that led to the impeachment of South Korean President Park Geun-hye.....
Alibaba Joins Fight Against Counterfeits
China's e-commerce giant Alibaba said on Tuesday that it has joined a group of 20 brands to fight counterfeit goods using data analysis.....
Samsung Launches Galaxy C9 Pro In India
Samsung India on Tuesday announced the launch of its new smartphone powerhouse 'Galaxy C9 Pro' here. Bollywood actress Prachi Desai did the honours for the company.....
Samsung Blames Batteries For Galaxy Note 7 Fires
Samsung Electronics on Monday said its months-long probe into what caused some Galaxy Note 7 smartphones to catch fire has established that faulty batteries were the main problem, not the device's hardware design or software.....
Chips, Semiconductors Compensate For Samsung Note 7 Losses
Thanks to its components (mainly chips) and semiconductors business, Samsung Electronics has posted an operating profit of 29.2 trillion won ($25 billion) in 2016, despite losses suffered by its mobile division due to the Galaxy Note 7 fiasco.....
Samsung May Launch Android Tablet At Mobile World Congress
Resting the reports of a total no-show at the Mobile World Congress (MWC) 2017 in Barcelona, Spain, Samsung has sent out invites to media and may launch an Android tablet there.....