Tag: Samajwadi Party
Azam Khan Says SP Will Win 380 Seats; Gets Math Wrong
Uttar Pradesh's senior minister Mohammad Azam Khan on Friday trashed all exit polls and predicted 380 seats for his Samajwadi Party.....
Assembly Elections Result 2017 LIVE: BJP Set To Win In UP, Uttarakhand; Congress In Punjab
The BJP cruised towards victory on Saturday in Uttar Pradesh and Uttarakhand while the Congress brutally brushed aside the AAP in Punjab as officials counted the millions of votes polled in assembly polls. The Congress led in Manipur while it was neck and neck in Goa with the BJP. ....
Mamata Wants Meet On EVMs
West Bengal Chief Minister Mamata Banerjee on Friday suggested the "possibility" of EVM tampering and urged the Election Commission to call an all-party meeting to discuss the issue.....
RS Disrupted Over Statutory Panels' Vacancies, Adjourned
The Rajya Sabha on Tuesday witnessed repeated disruptions as opposition members protested the delay in filling the vacancies in statutory commissions for different castes, tribes and minorities. The upper house was finally adjourned for the day around 3 p.m. ....
BJP Got Midas Touch After Landslide Victory In Uttar Pradesh
After five state assembly elections BJP seems to have possessed some sort of magnetic powers attracting leaders from all political parties.....
China Bigger Threat Than Pakistan, Ban Chinese Products: Mulayam
Samajwadi Party leader Mulayam Singh Yadav on Wednesday sought the government's response on the military stand-off at Doklam. He Describing China as a "bigger threat to India than Pakistan".....
National Opposition Should Work Together To Challenge Modi
West Bengal Chief Minister Mamata Banerjee on Friday threw enough hints that she is not averse to taking the lead in bringing together opposition parties on a single platform against the BJP in the next Lok Sabha election in 2019. ....
Jaya-Amitabh Have Combined Assets Worth Rs 1,000 Cr : Affidavit
Actress-turned-politician Jaya Bachchan has declared movable and immovable assets worth Rs 493 crore in her affidavit to the Election Commission (EC).....
Ties With Congress Continue To Be Good: Akhilesh
Samajwadi Party chief Akhilesh Yadav on Thursday said his ties with the Congress will continue to be good but stopped short of saying if the two parties will fight the 2019 Lok Sabha elections together.....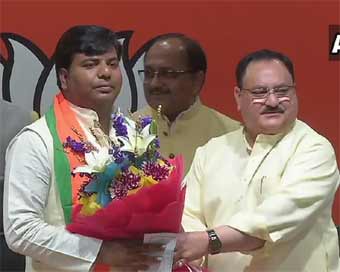 Gorakhpur MP Praveen Nishad Joins BJP
Uttar Pradesh's Rashtriya Nishad Party, which last week parted ways with the alliance of Samajwadi Party (SP), Bahujan Samaj Party (BSP) and Rashtriya Lok Dal (RLD), on Thursday became part of NDA and its Gorakhpur MP Praveen Nishad joined the Bharatiya Janata Party (BJP).....