Tag: Samajwadi Party
EC To Decide Fate Of 'cycle' Today
The Election Commission is expected to announce on Monday its decision on the demand for 'cycle' symbol by the two warring factions of the Samajwadi Party.....
Will Contest Against Akhilesh If He Does Not Relent: Mulayam
Samajwadi Party patriarch Mulayam Singh Yadav on Monday said he was prepared to contest against his son and Uttar Pradesh Chief Minister Akhilesh Yadav if attempts to keep the party united fail. ....
Congress Forms Alliance With Samajwadi Party For UP Polls
The Congress party on Tuesday said it will contest the Uttar Pradesh assembly polls in alliance with the Akhilesh Yadav-led Samajwadi Party.....
Priyanka Negotiated Deal With SP, Says Congress
In what could be seen as an announcement of Priyanka Gandhi's arrival, several senior Congress leaders on Sunday acknowledged the role of Priyanka Gandhi Vadra in striking an alliance with the Samajwadi Party (SP) in Uttar Pradesh.....
Akhilesh Kicks Off Election Campaign
Uttar Pradesh Chief Minister Akhilesh Yadav on Tuesday kicked off the Samajwadi Party's election campaign by promising to provide better living conditions if he was re-elected.....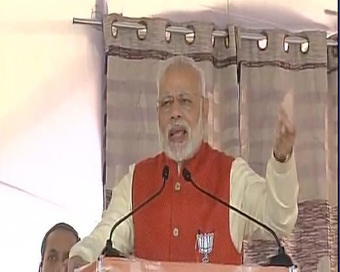 Congress A Sinking Ship, Is History, Says Modi
Dubbing the Congress as a "sinking ship" and "history", Prime Minister Narendra Modi on Friday called upon voters not to vote for the opposition party in the coming assembly elections in five states.....
Rahul-Akhilesh To Begin Joint Poll Campaign On Sunday
Congress Vice-President Rahul Gandhi and Samajwadi Party President Akhilesh Yadav will hold a joint road show here in Uttar Pradesh on Sunday.....
Waiving Off Farm Loans, Free Laptops Among BJP's Poll Promises
Batting for all-round development of Uttar Pradesh and wooing voters, the BJP on Saturday released its manifesto promising to waive off loans of marginal farmers, provide interest free loans to them and distribute laptops to the youth.....
SP-Congress Combine May Form Next Government In UP: Survey
The Samajwadi Party-Congress alliance is likely to gain majority with 187 to 197 seats and around 35 per cent vote share in the forthcoming Uttar Pradesh Assembly polls, according to a recent survey.....
After HC Raps UP Official, BJP Tears Into SP Government
The BJP on Saturday launched a scathing attack on the Samajwadi Party government following a High Court rap on Uttar Pradesh Chief Secretary Rahul Bhatnagar for a false affidavit.....