Tag: Ravichandran Ashwin
India Beat England By Three Wickets In First ODI
Blazing centuries from captain Virat Kohli (122 off 105 balls) and Kedar Jadhav (120 off 76 deliveries) helped India defeat England by three wickets in their first One-Day International (ODI) cricket match here on Sunday.....
Yuvraj Back In Kohli-led ODI, T20 Squads Against England
Star batsman Yuvraj Singh was named in the Indian One-Day International (ODI) and T20 squads for the three-match series against England, led by new skipper Virat Kohli, starting on January 15, BCCI's Chairman of Selectors M.S.K. Prasad announced here on Friday.....
Jadeja Joins Ashwin As No. 1 Test Bowler, Kohli Slips To 3rd Among Batters
Indias Ravichandran Ashwin and Ravindra Jadeja on Wednesday became the first pair of spinners to be jointly top-ranked in the International Cricket Council rankings for Test bowlers while a poor outing in the first two Tests against Australia have pulled India skipper Virat Kohli down a rung to third among the batsmen.....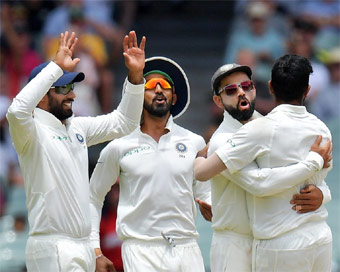 India Beat Australia By 31 Runs In Adelaide Test
India on Monday earned a hard-fought 1-0 lead in the four-match Test series after beating Australia by 31 runs in the opening cricket Test at the Adelaide Oval here.....
Ashwin, Jadeja Rested For T20I Series Against England
India have rested off-spinner Ravichandran Ashwin and left-arm spinner Ravindra Jadeja for the upcoming three-match Twenty20 International (T20I) cricket series against England, starting from Thursday, it was announced on Monday.....
Mukund Recalled, Saha Back At Parthiv's Cost For Bangladesh Test
Tamil Nadu opening batsman Abhinav Mukund's consistency in domestic cricket was on Tuesday recognised by the BCCI selectors, who picked him for the one-off Test against Bangladesh, starting February 9 in Hyderabad.....
234 Jobs To Open Up In TN: Ashwin
Cricketer Ravichandran Ashwin, commenting on the political developments in Tamil Nadu said on Monday "234 job opportunities" will shortly open up for the youth in the state.....
Kohli, Ashwin Chosen For BCCI 2016-17 Awards
India skipper Virat Kohli, who has been on a roll with the willow, was on Wednesday named for the prestigious Polly Umrigar award while all-rounder Ravichandran Ashwin will be presented the Dilip Sardesai award at the Board of Control for Cricket in India's (BCCI) annual awards on March 8 here.....
Always Wanted To Be One Of The Top Players, Says Kohli
India skipper Virat Kohli, who was presented with the Polly Umrigar award at the Board of Control for Cricket in India (BCCI) annual awards here on Wednesday, said he always wanted to be one of the top players in the world.....
Ashwin, Vijay Set To Miss IPL 10
India Test regulars Ravichandran Ashwin and Murali Vijay, who represent Rising Pune Supergiant and Kings XI Punjab respectively, will reportedly miss the tenth edition of the Indian Premier League (IPL) due to injuries.....