Tag: Ravi Shankar Prasad
Why So Much Fuss On Modi's 'raincoat' Barb, BJP Asks Congress
The BJP on Thursday rallied behind Prime Minister Narendra Modi for his "raincoat" remark against his predecessor Manmohan Singh, saying there was nothing wrong in the remark as the Congress too had insulted former premiers.....
Shah Targets Opposition For Questioning EVMs, Says BJP Yet To Peak
Setting a new target for party leaders and workers, Bharatiya Janata Party President Amit Shah said on Saturday that despite being in power at the centre and in 13 states, the party is yet to achieve its peak and urged them to devote themselves to the cause.....
Cabinet Okays Hike In Carpet Area Of MIG Flats For Subsidy
The Union Cabinet chaired by Prime Minister Narendra Modi on Thursday cleared a proposal to increase the carpet area of houses eligible for interest subsidy under the credit-linked subsidy scheme for the Middle Income Group (MIG) under the Pradhan Mantri Awas Yojana (Urban).....
Lok Sabha Passes Bill That Criminalises Triple Talaq
The Lok Sabha on Thursday passed a bill that criminalises instant divorce with three years of imprisonment for Muslim husbands after the government rejected an overwhelming demand from the Opposition to refer the legislation to a Parliamentary standing committee for detailed consideration.....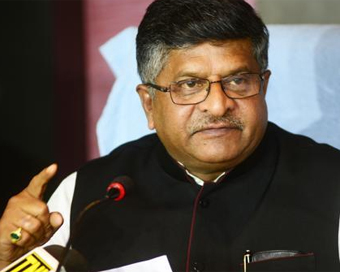 Not SC, HC Job To Govern Through PILs: Minister
Union Law Minister Ravi Shankar Prasad on Wednesday said that it was not the job of the Supreme Court and the High Courts to govern through public interest litigations and said that law-making better be left to Parliament.....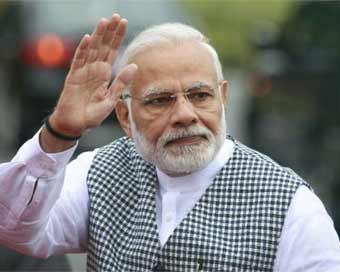 Modi To Meet NDA MPs Ahead Of Swearing-in
Prime Minister-elect Narendra Modi will on Thursday meet the NDA's newly-elected MPs who will take the oath of office and secrecy with him later in the day.....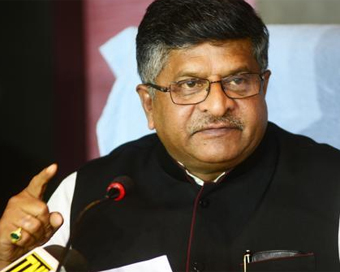 States Can't Escape From Implementing CAA: Prasad
The Union Minister Ravi Shankar Prasad on Wednesday said the states would have to implement the Citizenship (Amendment) Act.....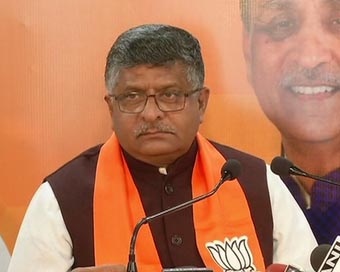 Judge Transfer Row: Is Rahul Above The SC?, Ravi Shankar Prasad Tears Into Gandhis
The government has hit back hard and gave point by point rebuttal after Congress leaders Rahul Gandhi and Prianka Gandhi Vadra raised questions over the transfer of Justice Muralidhar.....
100 Triple Talaq Cases Since SC Verdict In August: Prasad
Union Law Minister Ravi Shankar Prasad on Thursday moved the triple talaq Bill for consideration and passage in the Lok Sabha and said about 100 triple talaq cases had taken place since the Supreme Court struck it down in August this year. ....
BJP Seeks Rahul's Apology After Zuckerberg Accepts Data Theft
The BJP on Wednesday sought an apology from Congress President Rahul Gandhi and asked him to ensure not to "manipulate" voters and "divide" the society in view of allegations of data theft by political consultancy firm Cambridge Analytica (CA).....