Tag: Rashtrapati Bhavan
Israeli PM Accorded Ceremonial Welcome
Israel Prime Minister Benjamin Netanyahu, who is on six-day visit to India, was accorded a ceremonial welcome at Rashtrapati Bhavan on Monday.....
Modi Greets Trudeau With Hug At Ceremonial Reception
Prime Minister Narendra Modi met his Canadian counterpart Justin Trudeau on Friday welcoming him with a hug ahead of a ceremonial reception at the Rashtrapati Bhavan, putting to rest speculations about the government cold-shouldering the visiting dignitary.....
France Best Partner For India: Macron
French President Emmanuel Macron on Saturday said that France should be the best partner for India and the entry point to Europe.....
Nepal PM Accorded Ceremonial Welcome
Nepal Prime Minister K.P. Oli was accorded a ceremonial welcome at the Rashtrapati Bhavan here on Saturday.....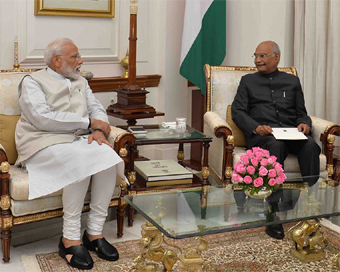 Modi To Take Oath As PM On May 30
President Ram Nath Kovind will administer the oath of office and secrecy to Prime Minister Narendra Modi and other members of the Union council of ministers on May 30 at 7 p.m. at Rashtrapati Bhavan, an official communique on Sunday said.....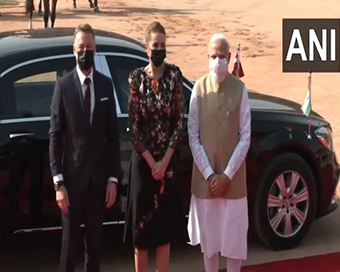 PM Modi Meets Visiting Danish PM Mette Frederiksen
Prime Minister Narendra Modi on Saturday received his Danish counterpart Mette Frederiksen, who is on a two-day visit to India, at the Rashtrapati Bhavan. ....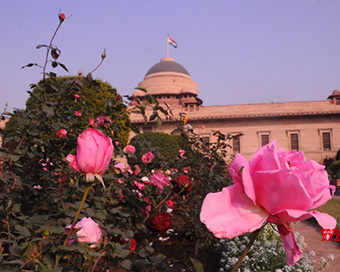 Presidential Palace To Reopen For Public From August 1
With the number of Covid-19 cases come down in the national capital, the Rashtrapati Bhavan has decided to reopen its complex and museum for the common citizens from August 1 onwards. ....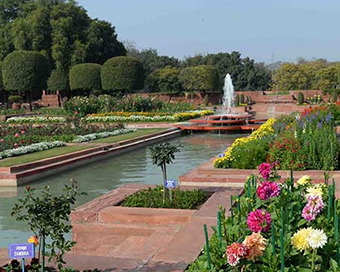 Delhi: Mughal Gardens To Open From Feb 12; Entry Through Online Booking Only
Eleven varieties of tulips in six colours, 138 kinds roses, over 20 types of creepers and 70 different seasonal plants are awaiting for the visitors at the annual 'Udyanotsav' at Mughal Gardens at the Rashtrapati Bhavan that will be opened for public from February 12. ....
Abu Dhabi Crown Prince Gets Ceremonial Welcome
Crown Prince of Abu Dhabi H.H. Mohammed Bin Zayed here on Wednesday received a ceremonial welcome by President Pranab.....
Delhi Police Recovers Satyarthi's Nobel Prize Replica
Child rights activist Kailash Satyarthi's Nobel Prize replica stolen from his house here was recovered by the Delhi Police on Sunday.....