Tag: Rashtrapati Bhavan
Opposition MPs Meet President, Demand Probe Into Judge Loya's Death
Leaders of the Congress and 14 other opposition parties on Friday sought President Ram Nath Kovind's intervention for a Supreme Court-monitored investigation by an independent agency into the "suspicious" death of Judge B.H. Loya.....
Vietnam President Accorded Ceremonial Welcome, Sushma Swaraj Calls On Vietnam President
External Affairs Minister called on visiting Vietnam President Tran Dai Quang and discsueed ways to further deepen the bilateral relationship.....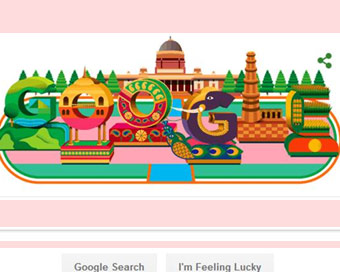 Google Displays Colourful Doodle To Mark 70th R-Day
Google on Saturday dedicated a colourful doodle marking the 70th Republic Day of India.....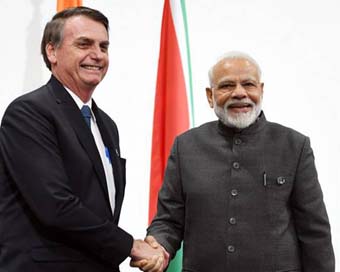 Brazillian Prez Given Ceremonial Welcome At Rashtrapati Bhavan
Visiting Brazilian President Jair Bolsonaro on Saturday was given a ceremonial welcome at the Rashtrapati Bhavan.....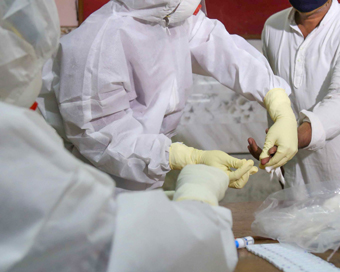 25 Families Of Staffers Asked To Self Isolate In Rashtrapati Bhavan
The family members of at least 25 houses in the Rashtrapati Bhavan premises have been asked to isolate themselves after a staffer's relative tested positive for the novel coronavirus (COVID-19) that has claimed over 550 lives in India so far.....
President To Launch Solar Power Project At Rashtrapati Bhavan On Friday
President Pranab Mukherjee will inaugurate the first phase of a solar power project in the President's Estate on Friday, an official release said.....
Bangladesh PM Accorded Ceremonial Welcome
Bangladesh Prime Minister Sheikh Hasina was on Saturday accorded a ceremonial welcome at the Rashtrapati Bhavan here.....
Nepal President Bidya Devi Accorded Ceremonial Welcome
President of Nepal Bidya Devi Bhandari was on Tuesday morning accorded a ceremonial welcome at the Rashtrapati Bhavan in New Delhi.....
NITI Aayog: Council Is Discussing Roadmap For India's Growth And Transformation
The Niti Aayog's Governing Council is meeting today to discuss the 15-year Vision Document to accelerate the country's economic development. With around 30 Chief Ministers attending, except some non-BJP Chief Ministers like Mamata Banerjee and Mukul Sangma who have skipped the meet and sent their ministers instead.....
Parliament Winter Session Likely To Begin From December 15
The government is considering calling the winter session of Parliament from December 15 after completion of polling in Gujarat in the Assembly elections and the dates would be out once the Presidential nod is secured for an ordinance on the Insolvency and Bankruptcy code.....