Tag: Ranveer Singh
Shooting Of 'Padmavati' Hit
Activists of a Rajput organisation, Shree Rajput Karni Sena, protested and misbehaved with the crew of Sanjay Leela Bhansali's upcoming film "Padmavati" here on Friday, police and eyewitnesses said.....
Country Will Be Proud Of 'Padmaavat': Ranveer Singh
Sending high tens and monster hugs to his well-wishers, actor Ranveer Singh on Wednesday said "Padmaavat" will be a film that the whole country will be proud of.....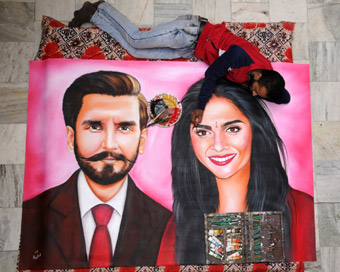 Ranveer Singh, Deepika Padukone Get Married In Italy
Bollywood stars Ranveer Singh and Deepika (23:14) Padukone on Wednesday tied the knot as per Konkani traditions in a dreamy Lake Como setting in Italy amidst a tight circle of family and friends, culminating a six year-long love story in a 'happily ever after'.....
Oops! Vin Diesel Says Ranveer Is Deepika's 'boyfriend'
They have kept mum about their relationship status, but actors Ranveer Singh and Deepika Padukone couldn't stop Hollywood star Vin Diesel from giving out their dating secret while he was on his maiden India trip. ....
Deepika, Priyanka Trying To Achieve Different Things
Actress Deepika Padukone, who is often compared with actress Priyanka Chopra, feels there is no need to compare the two as both are trying to achieve "very different things" for themselves.....
Bollywood Fashion Trends Men Should Watch Out For
Short kurtas in dark colours and casual look flaunted by celebrities like Shah Rukh Khan and Hrithik Roshan are some of the fashion trends for men that are here to stay, says an expert.....
Watch Ranveer Singh's Funny Video About Alia Bhatt
Actor Ranveer Singh, who will share screen space with actress Alia Bhatt in a new movie "Gully Boy", has shared a funny video about the actress on social media.....
Bollywood Couples Grace Shahid Kapoor's Pre-birthday Bash
Shahid Kapoor will be celebrating his birthday next week but the actor's georgeous wife Mira Rajput hosted a pre-birthday bash for the 'Rangoon' actor and the party was graced by the love couples of Bollywood. ....
PHOTOS: Ranveer, Anushka Cast Vote For Civic Body Polls
Bollywood actors Ranveer Singh, Anushka Sharma and others casted their vote for civic body elections in Mumbai on Tuesday morning. ....
Watch: Ranveer Singh Enjoys Bobsleighing In Switzerland
Bollywood actor Ranveer Singh, who rode the bobsleigh in Switzerland, is now a certified speedster.....