Tag: Rajya Sabha elections
Rajya Sabha Polls: Amit Shah, Smriti Irani To Contest Elections From Gujarat
BJP chief Amit Shah and Information and Broadcasting Minister Smriti Irani will contest the biennial election to the Rajya Sabha from Gujarat.....
SC Refuses To Stay Election Commission's Notification On NOTA
The Supreme Court on Thursday refused to stay the Election Commission's notification allowing None of the Above (NOTA) in the upcoming Rajya Sabha elections in Gujarat. The polling will be on August 8.....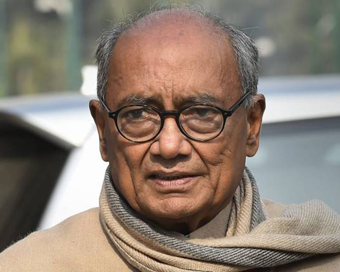 Digvijaya Singh Files Nomination For RS Polls
With a question mark hanging over the survival of the Congress government in Madhya Pradesh, former Chief Minister Digvijaya Singh on Thursday filed his nomination papers as ruling party's nominee for the Rajya Sabha elections slated for March 26.....
Rajya Sabha Polls: Amit Shah, Smriti Irani To File Nomination Today
BJP president Amit Shah and Union Information and Broadcasting Minister Smriti Irani will file their nominations for Rajya Sabha elections from Gujarat on Friday.The Parliamentary board of the BJP on Wednesday announced that Amit Shah and Smriti Irani will contest for Rajya Sabha elections from Gujarat. ....
Singhvi, Ketkar Among 10 Congress Candidates For Rajya Sabha Polls
The Congress on Sunday announced names of 10 candidates for the biennial Rajya Sabha elections in seven states, including Abhishek Manu Singhvi from West Bengal and senior journalist Kumar Ketkar from Maharashtra.....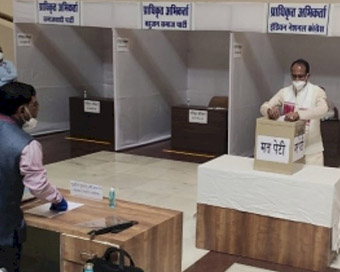 Polling For 3 RS Seats In MP
Polling took place in the assembly premises on Friday for three Rajya Sabha seats in Madhya Pradesh. Chief Minister Shivraj Singh Chouhan was the first to vote. ....
Rajya Sabha Polls: Who Will Win The Battle?
The election to three Rajya Sabha seats from Gujarat has turned into a high-stake battle. Where BJP has fielded party chief Amit Shah, Union minister Smriti Irani and Balwantsinh Rajput for the three seats in Gujarat, Congress leader Ahmed Patel is contesting against Rajput.....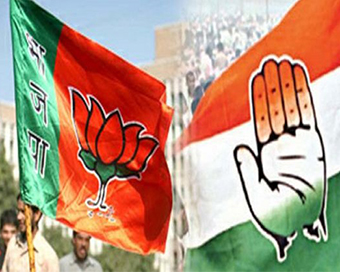 Congress, BJP Gear Up For RS Polls
The Congress finalized its strategy late on Wednesday night for the Rajya Sabha elections. Senior leader Digvijay Singh is going to be the party's first priority candidate and his victory is thus almost a certainty. ....
Showing 1 to 8 of 8 (1 Pages)