Tag: Rajasthan
Special Moments From 68th Republic Day Celebrations
The 68th Republic Day was celebrated with fervour and enthusiasm.The celebrations are held to honour the day Constitution of India came into force in the year 1950.....
Punjab Polls: Candidates At Doorsteps To Woo Voters Amid Tight Security
With only a couple of hours left for the February 4 Punjab assembly elections to get unerway, leaders and workers of various political parties on Friday moved from door to door in a last-ditch effort to woo voters amid tight security in the border state. ....
17 Killed In Rajasthan Accident
At least 17 persons were killed and one injured when a truck collided with an overloaded jeep in Hanumangarh district of Rajasthan on Friday.....
ED Raids 18 Bureaucrats In Nine States
The Enforcement Directorate (ED) on Thursday conducted raids on the premises of 18 bureaucrats across nine states in connection with their involvement in alleged violation of the government's demonetisation scheme, money laundering and other cases, an official said.....
SC Seeks 7 States' Response On Cow Vigilantes
The Supreme Court on Friday sought responses from seven states on a plea seeking to curb self-appointed cow vigilante groups indulging in violence.....
BJP Wins In 5 States; Congress Bags Karnataka Seats
The BJP, continuing with its victory streak, on Thursday won five out of 10 assembly by-elections across eight states, including Delhi, with the Congress getting solace from Karnataka where it retained two seats and held on to another in Madhya Pradesh.....
18 Arrested For Parading Couple Naked In Rajasthan
Eighteen people were arrested on charges of beating a young couple and parading them naked in Rajasthan's Banswara district, police said on Thursday.....
Ensure Safety Of Kashmiri Youths: Rajnath To States
Condemning the attack on Kashmiri students in Rajasthan's Mewar University, Union Home Minister Rajnath Singh on Friday appealed to all state governments to ensure safety of Kashmiris.....
KKR Bowl Out RCB For IPL's Lowest-ever Score To Score Remarkable Win
Kolkata Knight Riders (KKR) made short work of Royal Challengers Bangalore's star-studded batting lineup to and script a remarkable 82-run win in a high-voltage Indian Premier League (IPL) game in Kolkata at the Eden Gardens on Sunday.....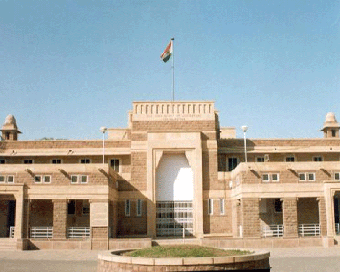 Rajasthan HC Issues Notice To Centre, State On Immunity Ordinance
The Rajasthan High Court on Friday issued notice to the central and state governments on an ordinance that aims to protect public servants from being probed for on-duty action without prior government sanction. ....