Tag: Rajasthan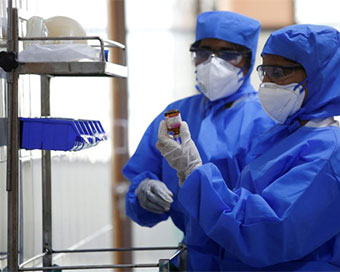 Rajasthan Reports First Coronavirus Death
Rajasthan reported the first coronavirus death, here on Thursday. Narayan Singh, 73, who was on dialysis and suffered from several ailments, passed away in Bhilwara, health officials confirmed.....
Cisco Unveils Initiatives To Digitally Empower Girls In Rajasthan
In its bid to accelerate the digital transformation of Rajasthan, global networking giant Cisco on Monday announced a slew of initiatives, including video-enabled digital classrooms in women colleges in the state to cover 10,000 women students over the next one year.....
Severe Cold Grips Rajasthan, Ground Frost Likely
Severe cold weather continued to affect normal life in Rajasthan on Wednesday with Met Office warning that conditions would become severe and ground frost would occur at isolated places in the state in next 24 hours.....
Chilly Winds Continue To Sweep Rajasthan
Chilly winds continued to blow across Rajasthan on Thursday, with the minimum temperature dropping to minus 1.9 degrees celsius in Churu.....
Icy Cold Winds Freeze Life In Rajasthan Towns And Cities
Icy cold winds continued to sweep across Rajasthan and affect the normal life of the people, with mercury dropping to below freezing point at a couple of places in the desert state.....
Two Arrested With Rs 6 Lakh-worth Cannabis
Two persons were arrested on Tuesday in Madhya Pradesh's Guna district along with 17 kg of cannabis having a market value of over Rs 6 lakh, police said.....
Live: Arms Act Case: Salman To Appear Before Jodhpur Court Today
Bollywood superstar Salman Khan appeared in a local court in Jodhpur today in connection with an arms act case.....
BIMARU States: Little Progress In 2 Years, Learning Crisis For Millions Of Children
In 2016, some learning outcomes for 111 million school-age students between ages six and 15 remained mostly unchanged in BIMARU states (Bihar, Madhya Pradesh, Rajasthan and Uttar Pradesh), when compared to 2014, after declining for four years, according to the 2016 Annual Status of Education Report (ASER) released in January 2017.....
Two Children Killed As Lighting Strikes Parts Of Rajasthan
Two children were killed and at least 20 others injured as lightning struck parts of Rajasthan on Thursday, police said.....
Celebrities 'appalled' Over Bhansali Attack
Bollywood celebrities including Priyanka Chopra, Mahesh Bhatt and Anurag Kashyap are appalled after ace filmmaker Sanjay Leela Bhansali was attacked on the sets of his upcoming film "Padmavati" in Jaipur.....