Tag: Rahul Gandhi
Azad, A Pillar Of Freedom Struggle: Rahul Gandhi
Congress Vice President Rahul Gandhi on Saturday paid tribute to India's first Education Minister Maulana Abul Kalam Azad on his 129th birth anniversary.....
Raise Questions About Rafale, Jay Shah From PM: Rahul
Congress Vice President Rahul Gandhi on Thursday asked the media to raise questions about the Rafale deal and on BJP chief Amit Shah's son Jay's income from Prime Minister Narendra Modi.....
NCP To Contest Gujarat Polls Solo
The Nationalist Congress Party (NCP), which was earlier in talks with the Congress to form an alliance to contest the upcoming Gujarat assembly elections, on Monday decided to contest alone for all the 182 constituencies in the state.....
CWC Starts Meet For Rahul's Elevation As Party President
The Congress Working Committee (CWC) on Monday began a meeting here to chart out a schedule for the election of the Congress President which will see the elevation of Vice President Rahul Gandhi to the party's top post.....
Rahul To Accept Huge Indian Flag 'insulted' By Gujarat CM
Congress leader Rahul Gandhi is set to accept a giant national flag made by the Dalit community that was presented to Chief Minister Vijay Rupani but which officials reportedly refused to accept citing lack of space.....
Rahul Must Stop Misleading Youth: Ravi Shankar
Union Law Minister Ravi Shankar Prasad on Tuesday attacked Congress Vice President Rahul Gandhi here and told him to "stop misleading the youth" in Gujarat.....
Modi, Rahul To Step Up Gujarat Poll Campaign On Wednesday
As the fight for Gujarat intensifies, Prime Minister Narendra Modi and Congress Vice President Rahul Gandhi will descend on the poll-bound state on Wednesday, with both stepping up their campaign ahead of the first phase elections on December 9.....
Modi Bought Power From Private Firms At Higher Rates: Rahul
Congress Vice President Rahul Gandhi on Friday accused Prime Minister Narendra Modi of reducing the power generation capacity of government-owned power firms between 2012-16, while buying electricity from private players at a much higher rate.....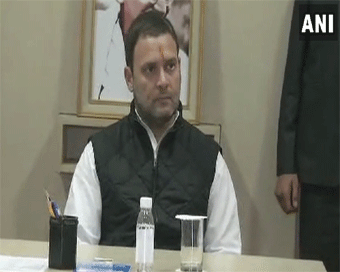 Rahul Gandhi Files Nomination For Congress President Post
Congress Vice President Rahul Gandhi on Monday filed his nomination papers for the post of party chief at its headquarters amid cheers and enthusiasm by party leaders and workers.....
Unlike Modi I Am Human, Thanks For Pointing Out Mistake: Rahul To BJP
Congress Vice President Rahul Gandhi on Wednesday thanked the BJP for pointing out mistakes in his tweet question on Tuesday over inflation, saying that "unlike" Prime Minister Narendra Modi he was "human" and did make the odd mistake. He asked the BJP to "please do keep it coming".....