Tag: Rahul Gandhi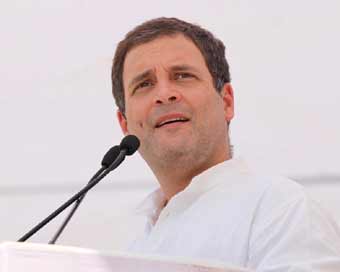 Migrant Workers Critical For Economic Growth: Rahul
Attributing the violent attacks on migrant workers in Gujarat to frustration among unemployed youth, Congress President Rahul Gandhi on Tuesday said the migrant workforce is "critical" for economic growth and must be curbed immediately.....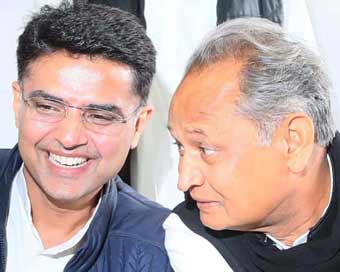 Gehlot, Pilot In Delhi As Rahul To Pick New Rajasthan CM
Former Rajasthan Chief Minister Ashok Gehlot and state Congress chief Sachin Pilot reached New Delhi on Thursday to meet party President Rahul Gandhi, who will finalize the name of the new Chief Minister. ....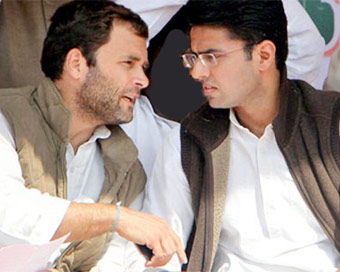 Pilot Meets Rahul Again, Party Keen To Give Message Of Unity
Rajasthan Congress chief Sachin Pilot, an aspirant to the post of Chief Minister, met party President Rahul Gandhi on Thursday night for the second time in a day amid indications that party leader Ashok Gehlot would be leader of the legislature party in the state.....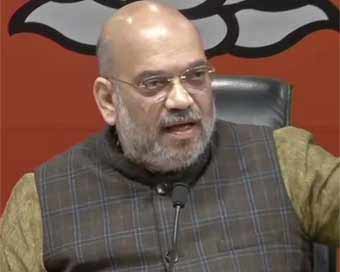 Amit Shah Asks Rahul To Apologize On Rafale Jet Issue
BJP President Amit Shah on Friday demanded that Congress President Rahul Gandhi should apologize to the nation for his "brazen lies" accusing the government and the Prime Minister of corruption in the Rafale jet deal with France and said he should also disclose the source of information for his attacks.....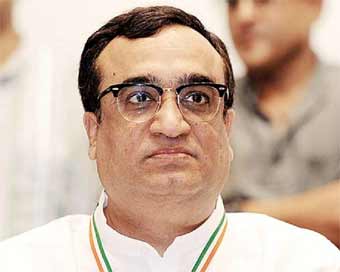 Ajay Maken Resigns As Delhi Congress Chief
Months before the 2019 Lok Sabha elections, former Union Minister Ajay Maken on Friday resigned as the Delhi Congress chief.....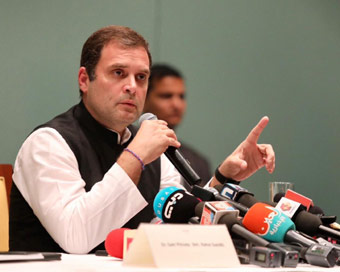 UP Equation Not A Setback For Us, Results Will Surprise Modi: Rahul
Congress President Rahul Gandhi on Saturday said the Samajwadi Party (SP) and Bahujan Samaj Party (BSP) leaving the Congress out of the alliance in Uttar Pradesh was not a "setback" for his party, and stressed that the poll results "would surprise people".....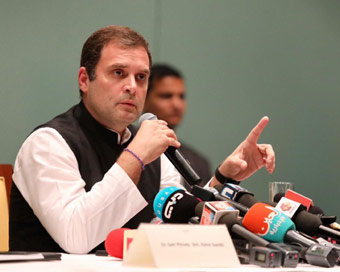 Modi's 'Rafale Fear' Behind Plum Post Offer To Sikri: Rahul
Congress President Rahul Gandhi on Sunday charged Prime Minister Narendra Modi with destroying key institutions to cover up the "Rafale scam" following reports of Supreme Court judge A.K. Sikri, who sided with the government to remove CBI Director Alok Verma, being nominated to the Commonwealth Tribunal.....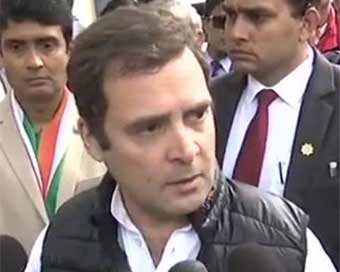 SP, BSP Not Enemies, We Must Build Our Base: Rahul
Congress President Rahul Gandhi on Wednesday made it clear that the appointment of his sister Priyanka Gandhi as General Secretary for Uttar Pradesh East was part of plans to rebuild the party's base in the state and said the Congress will cooperate with the BSP and SP to defeat the BJP in whatever ways possible.....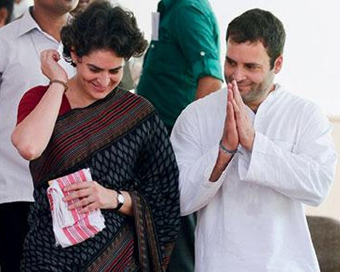 Priyanka's Appointment Not A Sudden Decision: Rahul Gandhi
Congress President Rahul Gandhi on Friday said his sister Priyanka Gandhi's appointment as the General Secretary in-charge of eastern Uttar Pradesh was not a sudden decision as he had been discussing it with her for years now.....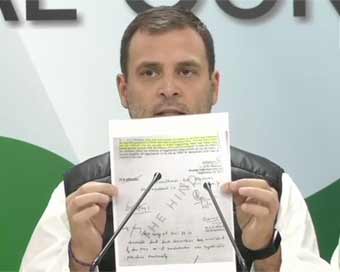 Modi Ran Parallel Negotiation With France For Rafale: Rahul
Accusing Prime Minister Narendra Modi of being directly involved in the Rafale fighter jet deal with France, Congress President Rahul Gandhi on Friday said that he ran a parallel negotiation.....