Tag: Rahul Gandhi
President, PM Comdemn Amarnath Yatra Attack
President Pranab Mukherjee, Prime Minister Narendra Modi and others strongly comdemn the terror attack on the Amarnath yatris in Jammu and Kashmir's Anantang district.....
Rahul Pokes Fun At RBI, Says 'Govt Looking For Maths Tutor'
Congress Vice President Rahul Gandhi poked fun at RBI Governor Urjit Patel over his remarks that the banned currency notes, deposited after the November 8 demonetisation, were still being counted. ....
Venkaiah Naidu Files Nomination In Presence Of Top Leaders
Just a day after being chosen as NDA's candidate for the August 5 Vice Presidential election, M. Venkaiah Naidu filed nomination for the post.....
Modi Congratulates Women's Cricket Team
Prime Minister Narendra Modi has congratulated the Indian Women Cricket team for showing shown remarkable tenacity and skill through the World Cup.....
Congress Candidate Attacks Parrikar
The Congress candidate for the Panaji by-election, Girish Chodankar, on Sunday launched his election campaign with a beached offshore casino vessel in the background and attacked his opponent, Chief Minister Manohar Parrikar.....
Rahul Gandhi In Gujarat: Narendra Modi Helped Convert Black Money Into White
Congress Vice President Rahul Gandhi on Wednesday accused Prime Minister Narendra Modi of helping hoarders of black money to convert it into white money with his "unilateral and whimsical" demonetization.....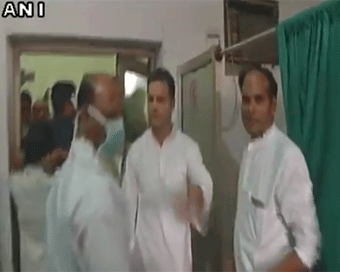 Rahul In Rae Bareli; Meets Kin Of NTPC Blast Victims
Congress Vice President Rahul Gandhi on Thursday reached Rae Bareli in Uttar Pradesh where over 20 persons have died in a boiler blast at a unit of National Thermal Power Corporation (NTPC).....
Rahul Asks Modi To Vacate Post Over Gas Price Hike
Congress Vice President Rahul Gandhi on Sunday attacked the Narendra Modi-led central government after the prices of cooking gas was again hiked, asking him to "vacate the 'Sinhasan' (post of the Prime Minister)".....
Advani Turns 90, Greeted By Political Leaders Across Spectrum
BJP veteran L.K. Advani, who turned 90 on Wedensday, was greeted on his birthday by leaders across political spectrum with Prime Minister Narendra Modi saying that his efforts had richly contributed to building of the party.....
Polling For Himachal Assembly Begins
Polling for the 68-seat Himachal Pradesh assembly in a single phase began amid tight security on Thursday, an election official said here.....