Tag: Rahul Gandhi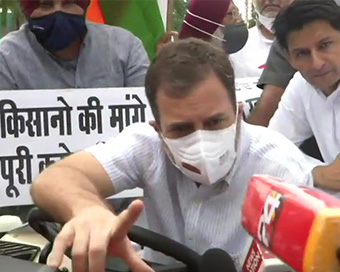 Rahul Gandhi Drives Tractor To Parliament, Demands Withdrawal Of 3 Farm Laws
Coming out in support of protesting farmers, former Congress chief Rahul Gandhi on Monday drove a tractor to Parliament and once again reiterated his demand of withdrawing the three farm laws. ....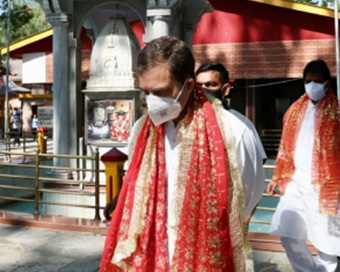 Rahul Gandhi Prays At Mata Kheer Bhawani Temple In Kashmir
Congress leader Rahul Gandhi on Tuesday paid obeisance at the Mata Kheer Bhawani temple in Jammu and Kashmir's Ganderbal district.....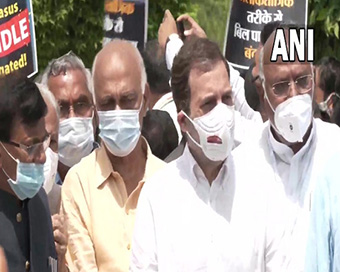 'Murder Of Democracy': Rahul Gandhi Leads Opposition's March Against Curtailment Of Parliament Monsoon Session
Members of Parliament and leaders of various opposition parties took out march from Parliament to Vijay Chowk on Thursday to protest against the curtailment of the monsoon session. ....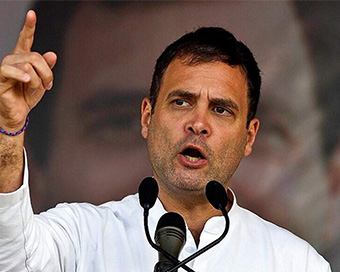 Economic Policies Have Failed, Situation At 1991 Level: Rahul Gandhi
Former Congress president Rahul Gandhi on Wednesday mounted yet another attack on the government over rising fuel prices and inflation and said the situation is at the 1991 level. ....
Rahul Gandhi To Lead Congress Delegation To China
A Congress delegation led by party Vice President Rahul Gandhi will visit Beijing on the invitation of the Communist Party of China (CPC) for a week from January 15, party sources said.....
Achhe Din Will Come When Congress Comes To Power: Rahul
Targeting Prime Minister Narendra Modi over the issue of demonetisation, Congress Vice President Rahul Gandhi on Wednesday said that the 'achhe din' promised by the BJP will come only in 2019 "when Congress comes to power".....
BJP Believes In Ideology Of Fear: Rahul Gandhi
Congress Vice President Rahul Gandhi on Wednesday attacked the BJP, accusing it of spreading "fear" wherever it is in power in the country.....
Second Phase Of Anti-demonetisation Stir From Thursday Said Congress
The Congress said it will launch its second phase of "Jan Vedna Abhiyaan", its nationwide agitation against demonetisation from January 12 and this will g on till February 20.....
Father Taught Me To Love And Respect All: Rahul Gandhi
Congress President Rahul Gandhi on Monday remembered his father and former Prime Minister Rajiv Gandhi on his 27th death anniversary saying it was he who taught him to love and respect all beings.....
Congress' Parameshwara To Be Karnataka Deputy CM
The Congress' Karnataka President G. Parameshwara would be the Deputy Chief Minister in the Janata Dal-Secular (JD-S)-Congress coalition government, a party leader said on Tuesday.....