Tag: Rahul Gandhi
UP Voters Rose Above Caste For BJP Win: Minister
Minister of State in the Prime Minister's Office Jitendra Singh on Saturday said the BJP's cruising to victory in Uttar Pradesh was an indication that voters in the state have risen above caste for the first time.....
No Question Of Rahul Stepping Down: Digvijaya Singh
Congress veteran Digvijaya Singh on Saturday said there was no question of party Vice President Rahul Gandhi stepping down, in the wake of the poor showing in the Uttar Pradesh assembly polls.....
Planned Celebrations Give Way To Silence At Kejriwal House
It was to have been a day of celebrations. But as it became clear that the AAP had lost badly in Punjab and Goa, gloom enveloped Delhi Chief Minister Arvind Kejriwal's residence here.....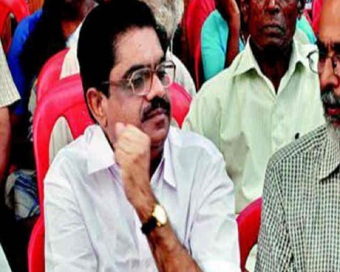 Search Begins For New Congress President In Kerala
With V.M. Sudheeran stepping down as the President of the Congress party in Kerala on health grounds, the party faces tough times in selecting a new leader to the post. Sudheeran resigned on Friday. ....
BJP Used Money To Steal Goa, Manipur Mandates: Rahul Gandhi
Congress Vice President Rahul Gandhi on Tuesday accused the BJP of using money to "steal the mandate" in Manipur and Goa following the party's bid to form governments in both the states despite being the runner-up. ....
Raj Babbar Offers To Quit As UP Congress Chief
Congress Uttar Pradesh chief Raj Babbar on Wednesday offered to quit the post following the partys rout in assembly polls.....
Congress Leaders To Get Notices For Defamation: Goa BJP
The BJP Goa unit on Friday said it will send legal notices to Congress leaders Rahul Gandhi and Girish Chodankar for what it dubbed "baseless defamatory statements" against the ruling party and its legislators.....
The Ides Of March Have Come And Gone But…
Mocking a soothsayer who had warned him about the Ides of March (March 15) on his way to the senate for his coronation Julius Caesar had shouted at him "The Ides of March have come". The soothsayer shot back "Aye Caesar but not gone" if I remember my Shakespeare correctly. What happened later is history.....
Sonia, Rahul Return From US
Congress President Sonia Gandhi and Vice President Rahul Gandhi have returned from the United States where Sonia Gandhi had gone for health check-up, the party said on Friday.....
Congress' Problems Begin And End At The Top
Few people will believe that the former External Affairs Minister S.M. Krishna's exit from the Congress and entrance to the Bharatiya Janata Party (BJP) will be a great loss for the former and a considerable gain for the latter....