Tag: Rahul Gandhi
Rahul Gandhi's Aunt Dead
Congress Vice President Rahul Gandhi's aunt Shobha Nehru died at her residence in Kasauli on Tuesday morning owing to age-related complications, her family said. She was 108. ....
Ailing Sonia Should Appoint Rahul Party Chief Fast: Congress Leader
An ailing Congress president Sonia Gandhi should quickly appoint her son Rahul Gandhi as party chief as the delay is only helping Prime Minister Narendra Modi achieve his ambition of a Congress-mukt India, a Congress leader said on Wednesday.....
Truth Has A Habit Of Coming Out: Rahul On Charges Against Kejriwal
Referring to sacked Delhi Water Minister Kapil Mishra's allegations against Delhi Chief Minister Arvind Kejriwal, Congress Vice President Rahul Gandhi on Monday said "truth has a habit of coming out".....
Lalu To Face Trial In All Fodder Scam Cases: SC
In a setback for RJD supremo Lalu Prasad, the Supreme Court on Monday set aside a Ranchi High Court ruling and ordered that he be tried in all the remaining five fodder scam cases. ....
Ram Nath Kovind Will Be The Next President
Prime Minister Narendra Modi's surprise pick and NDA nominee Ram Nath Kovind today become the President-elect after he defeated Meira Kumar who was backed by 17 Opposition parties.....
Will Accept Rahul As Leader: Lalu
RJD chief Lalu Prasad on Thursday said his party has "certainly" accepted the leadership of Rahul Gandhi and will try to get all non-NDA parties together under the Congress banner to defeat Modi government in the 2019 general election.....
Nitish Kumar Taunts Congress Over Defeat In Gujarat
BJP ally, Bihar Chief Minister and JD-U President Nitish Kumar on Monday taunted the Congress, saying the party had claimed victory in Gujarat and it lost Himachal Pradesh too. He also congratulated Prime Minister Narendra Modi and BJP President Amit Shah over the party winning in both states. ....
Modi Calls Himself Common Man But Hugs Only Special Ones: Rahul
Congress President Rahul Gandhi on Monday attacked the Prime Minister Narendra Modi for only hugging "special people", not the common man.....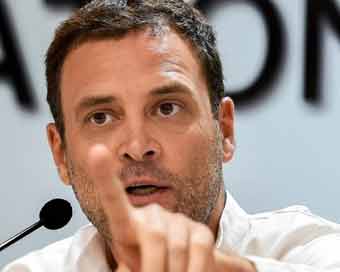 Try A Press Conference, It's Fun: Rahul To Modi
Taking a swipe at Prime Minister Narendra Modi, Congress President Rahul Gandhi on Wednesday asked him to hold a press conference.....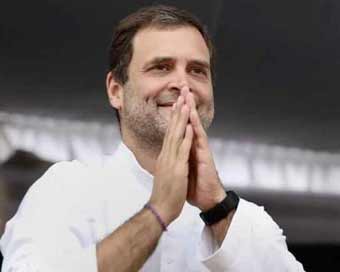 Rahul's Cent Percent Marks Moment
Finally Rahul Gandhi has arrived. That was the reaction of the whole newsroom after Rahul Gandhi ended his press conference at Congress headquarters in Delhi. Had the newsroom not been in live mode, there certainly would have been applause. The whole lot of senior journalists from various media groups present on the news floor was for the first time during the day long discussion in agreement of the view.....