Tag: Rahul Gandhi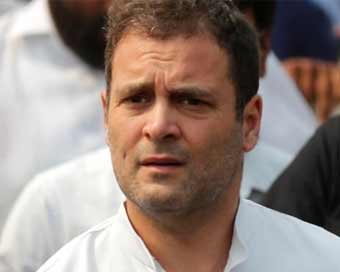 MHA Issues Notice To Rahul Over His British Citizenship
The Ministry of Home Affairs (MHA) has issued a notice to Congress President Rahul Gandhi to clarify his nationality within a fortnight after Bharatiya Janata Party (BJP) MP Subramanian Swamy alleged that he is a British national.....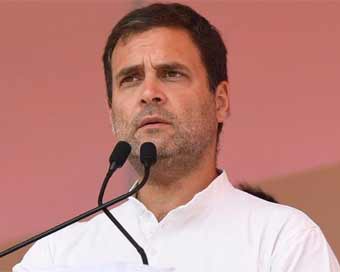 Rahul Pens Emotional Letter To Amethi People
Congress President Rahul Gandhi has written an emotional letter to the people of Amethi, asking them to vote for him and promising development of the region as soon as Congress forms government at the Centre.....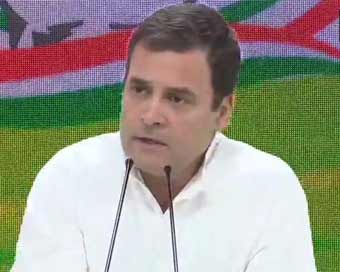 Who Let Masood Azhar Out: Rahul Asks Modi, BJP
Pointing fingers at the BJP for being the one who allowed Jaish-e-Mohammad (JeM) chief Masood Azhar to return to Pakistan and carry out terror activities over the years, Congress President Rahul Gandhi on Saturday asserted his party will deal with terrorism sternly and strictly.....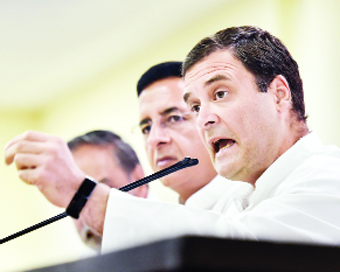 People, Not Modi, Responsible For Growth: Rahul
In an attempt to dent the Bharatiya Janata Party's (BJP) vote bank, Congress chief Rahul Gandhi, here on Saturday, criticised Prime Minister Narendra Modi for making false promises, like depositing Rs 15 lakh in bank accounts of people and creating over 2 crore jobs.....
Rahul Takes Swipe At Modi For Not Taking Questions At Press Conference
Congress President Rahul Gandhi on Friday took swipe at Prime Minister Narendra Modi for not answering a single question during his first press conference on the completion of five years in office.....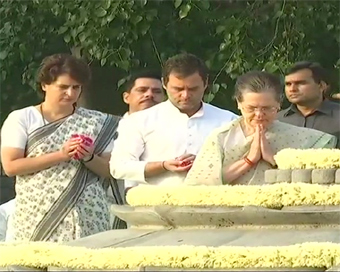 Tributes To Rajiv Gandhi On 28th Death Anniversary
Prime Minister Narendra Modi, Congress President Rahul Gandhi and UPA Chairperson Sonia Gandhi were among several political leaders on Tuesday who paid homage to late Prime Minister Rajiv Gandhi on his 28th death anniversary.....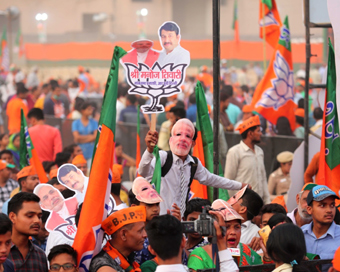 BJP Leading In All Seven Seats In Delhi
The BJP on Thursday looked set to repeat its 2014 performance in Delhi as it was leading in all the seven Lok Sabha seats here.....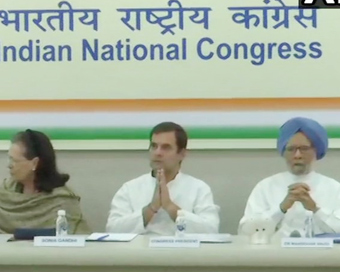 Congress Leaders Look Tense As CWC Meet Ends
The Congress leaders, who participated in the CWC meeting on Saturday to discuss the party's abysmal showing in the just concluded Lok Sabha elections, wore grim look when they came out as the meeting ended.....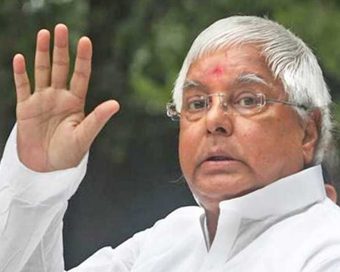 Rahul's Offer To Resign Suicidal: Lalu
Rashtriya Janata Dal leader and former Bihar Chief Minister Lalu Prasad on Tuesday said Congress President Rahul Gandhi's decision to resign will be suicidal not just for his own party but also all opposition.....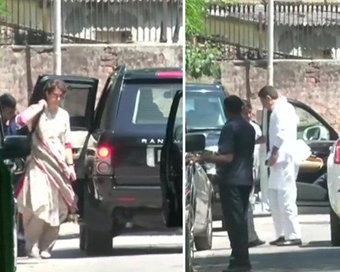 Congress Leaders Meet Rahul Amid Leadership Crisis
Rajasthan Chief Minister Ashok Gehlot, his Deputy Sachin Pilot and General Secretaries K.C. Venugopal and Priyanka Gandhi on Tuesday met party President Rahul Gandhi amid a leadership crisis following the party's rout in the Lok Sabha elections. ....