Tag: Prime Minister Manmohan Singh
Gurudas Kamat Quits All Congress Posts
In a surprise move, senior Congress leader and AICC General Secretary Gurudas Kamat has quit all posts in the party, according to a statement here on Wednesday. ....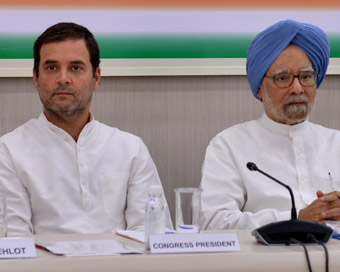 Congress Attacks Modi Government, To Launch Decisive Battle On Corruption
The Congress on Saturday stepped up its attack on the Modi government on the issue of corruption and took ownership of the National Register of Citizens while accusing BJP of using it as "divisive tool" as it decided to launch a "decisive battle" along with opposition parties against the BJP.....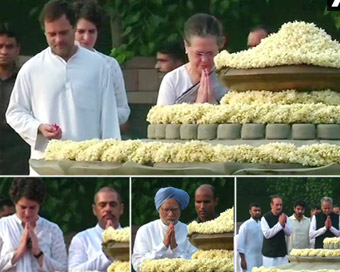 Rajiv Gandhi Remembered On His 74th Birth Anniversary
Congress President Rahul Gandhi along with his mother and UPA chairperson Sonia Gandhi paid homage to his father and former Prime Minister Rajiv Gandhi on his 74th birth anniversary on Monday.....
First Time Priyanka To Campaign Outside Amethi,Rae Bareli
Priyanka Gandhi Vadra, daughter of Congress president Sonia Gandhi, will be campaigning for party candidates in Uttar Pradesh for the state assembly elections. Her name figured in the list of 40 star campaigners released by the Congress on Tuesday. ....
Modi's Raincoat Barb An Insult To Nation: Rahul Gandhi
Taking on Prime Minister Narendra Modi over his "bathing with raincoat" jibe, Congress Vice President Rahul Gandhi said the remarks directed at former Prime Minister Manmohan Singh were an insult to the whole nation.....
Early To Conclude Economic Recovery From Note Ban, GST Impact: Manmohan Singh
Former Prime Minister Manmohan Singh on Saturday said it was too early to conclude that the economic slowdown has reversed as the 6.3 per cent growth rate in the July-September quarter did not take into account the small and medium sector which suffered huge losses in the aftermath of demonetisation and hasty implementation of GST.....
Tendulkar Fails To Make Maiden Speech Amid Uproar
Cricket maestro Sachin Tendulkar on Thursday could not make his maiden speech in the Rajya Sabha amid uproar by Congress members over Prime Minister Narendra Modi's remarks against his predecessor Manmohan Singh and over the 2G spectrum case. ....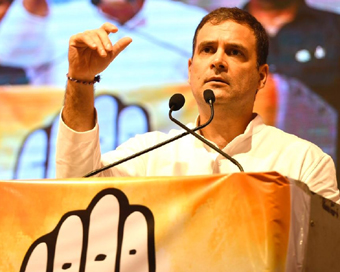 Economy Was Strong Under Manmohan Singh: Rahul
Slamming the Bharatiya Janata Party (BJP) government for all-round failure on the economic front, Congress leader Rahul Gandhi said here on Sunday that under the former UPA Prime Minister Manmohan Singh, Indian economy was very strong and flourished, earning the admiration of the whole world.....
CBI To Focus On Top Congress Leaders In VVIP Chopper Scam
In its ongoing investigation in the Rs 3,767 crore VVIP chopper scam, the CBI is focusing on the roles of several top political leaders, sources revealed on Thursday.....
Parliamentary Panel Clears Manmohan Singh Of Commonwealth Games Wrongdoing
The Public Accounts Committee (PAC) of Parliament has virtually absolved former Prime Minister Manmohan Singh and the then PMO of any wrongdoing in the New Delhi Commonwealth Games.....