Tag: Pranab Mukherjee
President Condoles Death Of Surjit Singh Barnala
President Pranab Mukherjee on Sunday condoled the death of former Punjab Chief Minister Surjit Singh Barnala. ....
Keep The Flag Of Indian Civilisation Flying Through Education: President
President Pranab Mukherjee on Wednesday urged students to uplift, upgrade and maintain the values of the Indian civilisation through education.....
Pawar, M.M. Joshi, Sangma Conferred Padma Vibhushan
Senior politicians Sharad Pawar, Murli Manohar Joshi and the late P.A. Sangma are among the seven recipients of the Padma Vibhushan award -- India's second-highest civilian honour -- announced on Wednesday.....
Tolerance Still Being Put To Test By Vested Interests, Says President
President Pranab Mukherjee on Wednesday said that country's pluralistic culture and tolerance were still being put to test by vested interests, while also noting that the time was ripe for a debate on the need for simultaneous polls to the Lok Sabha and the state assemblies.....
LIVE: 68th Republic Day Celebrations Begin
The 68th Republic Day celebrations began in the national capital on Thursday, with Abu Dhabi Crown Prince Mohammed bin Zayed Al Nahyan the Chief Guest at the annual parade.....
Soldier's Widow Receives Ashok Chakra
President Pranab Mukherjee posthumously awarded Ashok Chakra to Havildar Hangpan Dada, who was killed near in Jammu and Kashmir in May last year while fighting terrorists.....
Tejas Fighter Debuts At Republic Day Parade
India's Light Combat Aircraft (LCA) Tejas and Airborne Early Warning and Control System (AEW&C) developed indigenously, made their maiden appearance at the Republic Day parade here on Thursday.....
India Displays Military Might, Cultural Diversity
India's military might, its cultural diversity and achievements in various areas were showcased at a grand parade here on Thursday as the nation celebrated its 68th Republic Day with the Crown Prince of Abu Dhabi Sheikh Mohammed bin Zayed Al Nahyan as the Chief Guest.....
Budget Session Of Parliament Begins
The budget session of Parliament began with President Pranab Mukherjee's addressed to members of both the houses.....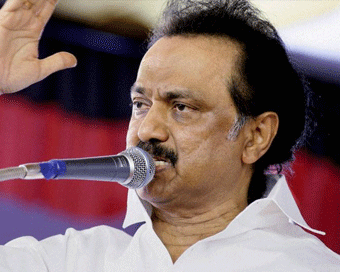 M.K. Stalin Likely To Visit Delhi
DMK Working President M.K. Stalin is likely to visit New Delhi to meet President Pranab Mukherjee, Prime Minister Narendra Modi and Home Minister Rajnath Singh to appraise them of the political situation in Tamil Nadu.....