Tag: Pakistan
Trump Denounces Pakistan, Stops All Aid
President Donald Trump began the New Year on Monday with a stinging attack on long-standing ally Pakistan, saying it will get no more US aid as it was giving "safe haven to terrorists we hunt in Afghanistan".....
US Suspending Most Aid To Pakistan As It Fails To Curb Terrorism
The US is suspending most aid to Pakistan because of its failure to curb terrorism enforcing President Donald Trump's repeated warnings to Islamabad, State Department spokeswoman Heather Nauert announced on Thursday.....
'Pakistan Aid Freeze Not Linked To Terror Attacks On India'
Islamabad's failure to stop terrorist attacks on India or take action against Lakshar-e-Taiba leader Hafeez Saeed were not factors behind the US suspending most military assistance to Pakistan, State Department Spokesperson Heather Nauert has said.....
BSF Seizes Heroin Along Pakistan Border In Punjab
BSF troopers on Sunday seized nearly 20 kg of heroin along the India-Pakistan border in Punjab's Gurdaspur district, BSF officials said.....
India, Pakistan NSAs Met, Talked Terror: MEA
India for the first time confirmed on Thursday that National Security Advisor (NSA) Ajit Doval met his Pakistani counterpart Nasir Khan Janjua in Bangkok last month with a focus on how to fight terror and end cross-border terrorism. ....
BSF Trooper, Two Civilians Killed In Pakistani Shelling
A Border Security Force (BSF) trooper and two civilians were killed and three others injured on Friday in indiscriminate firing and shelling by Pakistan Rangers on the international border in Jammu and Kashmir.....
Four Killed As India, Pakistan Exchange Fire On LoC And IB
Four people, including three civilians and an Indian Army soldier, were killed and over a dozen others injured on Saturday on the International Border and the Line of Control (LoC) in relentless ceasefire violations by Pakistan.....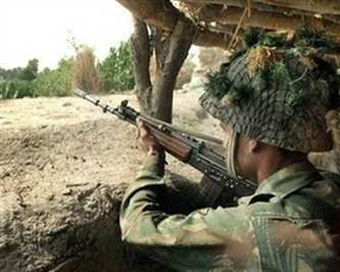 Civilian Killed In Pakistan Shelling, Firing
A civilian was killed and three others injured in heavy overnight shelling and firing by Pakistan Rangers on the international border in Jammu district, officials said on Monday.....
US Drone Attack In Pakistan Kills Two Suspected Militants
A Haqqani network commander and two of his companions were killed in a US drone strike in Pakistan's North Waziristan tribal region on Wednesday, a media report said.....
U-19 WC: India Thrash Pakistan To Enter Final
India produced an all-round performance with the bat and ball to thrash arch-rivals Pakistan by 203 runs in the semi-final at the Hagley Oval here on Tuesday and enter the U-19 World Cup final.....