Tag: Nitin Gadkari
Goa Tourist Traffic To Increase Three-fold With New Airport: Gadkari
After the under-construction Mopa international airport in North Goa becomes operational, the state's inbound tourist traffic will increase three-fold, Union Road Transport, Highways and Shipping Nitin Gadkari Minister said on Thursday.....
India To Banish Red Beacons From May 1
The VIP culture of flaunting red beacons on official vehicles will be history from May 1, and there will be absolutely no exceptions, the government announced on Wednesday.....
Babri Demolition Case: PM Meets Senior Ministers, Uma Bharti Cancels Ayodhya Visit
Prime Minister Narendra Modi on Wednesday held a meeting with senior ministers, hours after Supreme Court ordered restoring of criminal conspiracy charge against BJP leaders L. K. Advani, M M Joshi and Uma Bharti in the Babri Masjid demolition case.....
Ministers Stops Using Red Beacon On Official Cars
Shortly after the Central government's decision to scrap red beacons for VVIPs vehicles, Union Minister Nitin Gadkari, Maharashtra Chief Minister Devendra Fadnavis, Madhya Pradesh Chief Minister Shivraj Singh and many others have stopped using it with immediate effect.....
Modi To Meet BJP CMs On Sunday
Prime Minister Narendra Modi will hold a meeting of Chief Ministers and Deputy Chief Ministers of 13 Bharatiya Janata Party (BJP)-ruled states on Sunday in the national capital.....
Cabinet Reshuffle: Modi Rejigs Team, Sitharaman Gets Defence, Goyal Railways
Nirmala Sitharaman was named India's Defence Minister in a reshuffle-cum-expansion of the Union Cabinet by Prime Minister Narendra Modi on 3 September. Piyush Goyal was awarded charge of the Indian Railways.....
Gadkari 'attacks' Indian Navy For Obstructing Mumbai Development
In an unprecedented "attack", Union Shipping Minister Nitin Gadkari on Thursday slammed the Indian Navy for creating obstacles in "development projects in Mumbai", including opposing the plans for a floating jetty at Nariman Point.....
Kejriwal Apologizes To Gadkari To End Defamation Case
Making yet another U-turn, Delhi Chief Minister Arvind Kejriwal on Monday apologized to BJP leader Nitin Gadkari for making unverified allegations of corruption against him after which the Union Minister withdrew his defamation case.....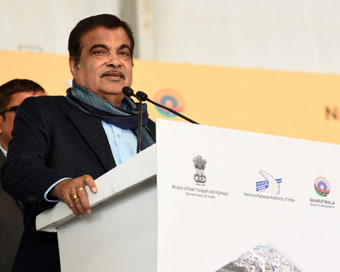 Road Projects Worth Rs. 50,000 Crore Sanctioned Around Delhi: Gadkari
Union Minister for Road Transport and Highways Nitin Gadkari here on Saturday laid the foundation stone for development of a six-lane corridor here and said road projects worth Rs 50,000 crore have been sanctioned for the national capital, which will improve the air pollution level.....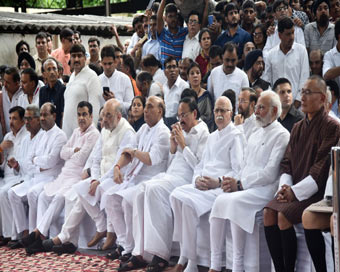 Political Leaders, Public Gather To Bid Farewell To Sushma
Heavy security was in place at the Dayanand crematorium on Lodhi Road on Wednesday evening as top leaders including Vice President Venkaiah Naidu and Prime Minister Narendra Modi reached for the last rites of former External Affairs Minister Sushma Swaraj, but apart from the VIPs, common people had also come to pay their final respects.....
Samay
Tweets by @sahara_samay