Tag: Narendra Modi government
Akhilesh Kicks Off Election Campaign
Uttar Pradesh Chief Minister Akhilesh Yadav on Tuesday kicked off the Samajwadi Party's election campaign by promising to provide better living conditions if he was re-elected.....
2016 Was Year Of Depression, Suppression, Regression: Azad
Targeting the Narendra Modi government over issues ranging from demonetisation to unrest in Kashmir, Leader of Opposition in Rajya Sabha Ghulam Nabi Azad on Thursday said the year 2016 has been one of "depression, recession, regression and suppression".....
Hoping To Implement GST From July 1: Jaitley
Finance Minister Arun Jaitley said on Wednesday said that Goods and Services Tax (GST) is the biggest reform in India and the Narendra Modi government was hoping to implement it by July 1 after the enabling Bills get Parliament's nod in the current budget session.....
Rahul Pokes Fun At RBI, Says 'Govt Looking For Maths Tutor'
Congress Vice President Rahul Gandhi poked fun at RBI Governor Urjit Patel over his remarks that the banned currency notes, deposited after the November 8 demonetisation, were still being counted. ....
Sitharaman's 'Namastey' Break The Ice Between Chinese And Indian Public Opinion
China welcomes Indian Defence Minister Nirmala Sitharaman's greeting to Chinese soldiers on the border as a "friendly gesture", a Chinese daily has said.....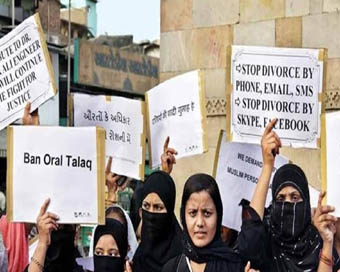 Government Keen To Bring Anti-triple Talaq Bill In Winter Session
The Narendra Modi government is planning to bring a bill in the winter session of Parliament banning "triple talaq" (instant divorce), government sources said on Tuesday. ....
Modi Government Failed In Fiscal Consolidation Test: Chidambaram
The Narendra Modi government failed on the test of fiscal consolidation and the people of this country will pay the price for it, former Union Finance Minister P. Chidambaram said on Monday.....
TDP To Quit Narendra Modi Government On Thursday
The Telugu Desam Party (TDP) on Wednesday night announced its decision to pull out of the Narendra Modi government in protest against refusal of the Centre to grant Special Category Status to Andhra Pradesh, saying the Centre has done injustice to the state.....
NGOs Working Among Muslims Filling State's Space, Yet Isolated: Ansari
NGOs working among the Muslims in India are filling the space left vacant by the state but they remain isolated despite the dream of a new India by 2022 held out by the Narendra Modi government, former Vice President Hamid Ansari said on Tuesday.....
Yashwant Sinha Announces End Of His Association With BJP
Senior BJP leader and former Union Finance Minister Yashwant Sinha, who has been trenchant in his criticism of Prime Minister Narendra Modi and his government, on Saturday announced that he was snapping his links with the BJP and launching a countrywide campaign to save the democracy.....