Tag: Muslim women
If BJP Wins UP, Will Consult Muslim Women On Triple Talaq: Shah
BJP President Amit Shah on Saturday raked up the 'triple talaq' issue ahead of the Uttar Pradesh assembly elections and said if the party wins, it will seek the opinion of the state's Muslim women and approach the Supreme Court accordingly.....
People Mum On Triple Talaaq Are Like Criminals: Adityanath
A day after Prime Minister Narendra Modi called for "justice" to Muslim women facing triple talaaq, Uttar Pradesh Chief Minister Yogi Adityanath on Monday said people sitting silent on the issue are equally to be blamed as criminals for the condition of divorced women.....
Video: Is Triple Talaq Fundamental To Islam, SC Asks
The Supreme Court on Thursday heard a batch of petitions challenging the constitutional validity of "triple talaq" and to know whether it was fundamental to Islam. ....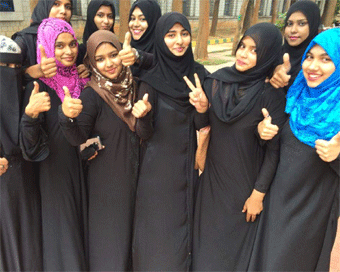 Muslim Women Can Travel For Haj Without 'Mahram': Modi
In a bid to empower Muslim women, the government has changed the law by permitting them to travel for the annual Haj pilgrimage without any male attendant, Prime Minister Narendra Modi said on Sunday.....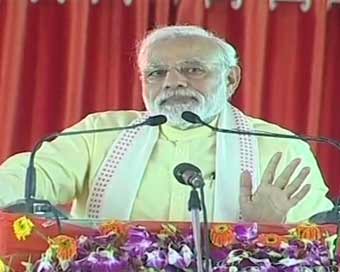 Will Congress Support Issues Like Triple Talaq: Modi
Raking up the reported remarks of Congress chief Rahul Gandhi that Congress is a party for Muslims, Prime Minister Narendra Modi on Saturday said he was not "surprised" by that but asked whether it would support Muslim women on issues like triple talaq.....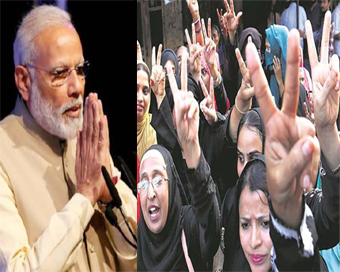 Cabinet Approves Bill Against Triple Talaq, To Replace Ordinance
The government will introduce a Bill in the coming session of Parliament against triple talaq to make it an offence punishable with imprisonment of up to three years and fine.....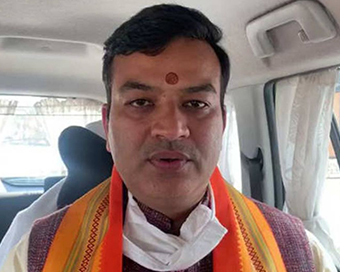 'Burqa' Is An Evil Custom, Says UP Minister Anand Swarup Shukla
After objecting to 'azaan', Uttar Pradesh Minister Anand Swarup Shukla has now said the Muslim women will be 'freed' from the practice of wearing 'burqa', which he described as an evil custom and compared it to the banned triple talaq. ....
Cabinet Clears Bill Criminalising Triple Talaq
A bill seeking to criminalise instant triple talaq among Muslims and providing for a three-year jail term was cleared by the Union Cabinet on Friday, which the government said was aimed at protecting the dignity and security of women in the community. ....
Congress Doing Injustice To Muslim Women: Ananth Kumar
Parliamentary Affairs Ministers Ananth Kumar on Friday accused the Congress of doing injustice to the Muslim women by opposing the Triple Talaq Bill saying that they should learn from the past and let the legislation pass.....
Saudi Women Allowed To Launch Businesses Without Male Permission
Saudi women will from now on be allowed to open their own businesses without the consents of their male relatives, media reports said on Sunday.....