Tag: Murli Manohar Joshi
Pawar, M.M. Joshi, Sangma Conferred Padma Vibhushan
Senior politicians Sharad Pawar, Murli Manohar Joshi and the late P.A. Sangma are among the seven recipients of the Padma Vibhushan award -- India's second-highest civilian honour -- announced on Wednesday.....
SC Favours Clubbing Of Babri Masjid Cases
Expressing concern over delays in the trial in the Babri Masjid case, the Supreme Court on Monday said the separate trials underway in Lucknow and Rae Bareli must be clubbed together to speed up the judicial process.....
SC Defers Hearing In Babri Masjid Conspiracy Case
The Supreme Court on Thursday deferred hearing on a CBI plea seeking restoration of criminal conspiracy charge against senior BJP leaders in the 1992 Babri Masjid demolition case, asking the parties to file written submission focusing on issues to be adjudicated.....
President Mukherjee Confers Padma Awards
President Pranab Mukherjee on Thursday conferred the Padma awards at a ceremony held at Rashtrapati Bhavan here.....
SC Decision On CBI Plea In Babri Masjid Conspiracy Case On Wednesday
The Supreme Court is likely to pronounce its verdict on Wednesday on the CBI's plea seeking revival of the criminal conspiracy charge against eight senior BJP and VHP leaders including L.K. Advani and Murli Manohar Joshi in the 1992 Babri Masjid demolition case.....
I, Not Advani, Incited Mob To Raze Babri Mosque: Ex-BJP MP
Former BJP MP Ram Vilas Vedanti on Friday said it was he and not former Deputy Prime Minister L.K. Advani who egged a frenzied mob to raze the Babri Masjid in 1992.....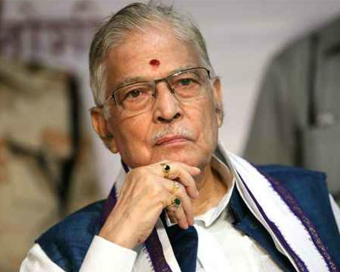 BJP Denies Joshi Ticket, Asks Not To Contest
Bharatiya Janata Party veteran Murali Manohar Joshi will not contest the 2019 Lok Sabha elections from anywhere as he has been denied a party ticket.....
Varun Gandhi Included In BJP's UP Star Campaigners' List
After initially dropping Varun Gandhi from the list of "star campaigners" in Uttar Pradesh, the BJP on Thursday included his name for the third and fourth phases of polling in the state, a party official said.....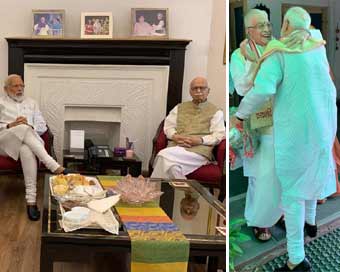 BJP's Victory Possible Due To Advani: Modi
Prime Minister Narendra Modi on Friday said that the Bharatiya Janata Party's (BJP) victory in the Lok Sabha elections was possible because of the work done by party veteran L.K. Advani.....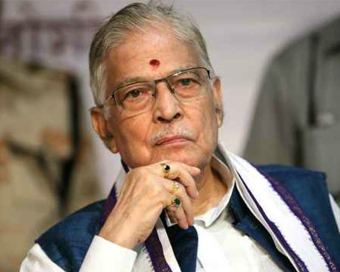 Joshi Among 8 Denied BJP Ticket, Seats Of Maneka, Varun Swapped
Days after denying tickets to party veterans L.K. Advani and Shanta Kumar, the BJP on Tuesday kept out Murli Manohar Joshi from the list of candidates and instead fielded Uttar Pradesh Minister Satyadev Pachauri from Kanpur won by him in 2014.....