Tag: Manmohan Singh
Manmohan Singh Releases Congress's Punjab Manifesto
Manmohan Singh releases Punjab Congress Manifesto for upcoming polls.....
Manmohan Singh Helped Mallya Get Loans, Claims BJP
The Bharatiya Janata Party on Monday alleged that former Prime Minister Manmohan Singh and his Finance Minister, P. Chidambaram, helped industrialist Vijay Mallya get huge loans for bailing out the now defunct Kingfisher Airlines.....
Only Manmohan Singh Can Teach How To Bathe With Raincoat On: Modi
Prime Minister Narendra Modi on Wednesday said former Prime Minister Manmohan Singh knew the "art of bathing wearing a rain coat", creating a huge uproar in the Congress benches in Rajya Sabha.....
Personal Insults Only PM's Response, Government Most Bereham: Yechury
Hitting out at Prime Minister Narendra Modi for his remarks on former PM Manmohan Singh, CPI(M) General Secretary Sitaram Yechury on Wednesday said Modi had no answers to opposition's questions and "personal insults to senior leaders" was his only response to serious issues.....
Why So Much Fuss On Modi's 'raincoat' Barb, BJP Asks Congress
The BJP on Thursday rallied behind Prime Minister Narendra Modi for his "raincoat" remark against his predecessor Manmohan Singh, saying there was nothing wrong in the remark as the Congress too had insulted former premiers.....
Congress Sticks To Demand For Apology For 'raincoat' Remark
The Congress on Friday continued its attack on Prime Minister Narendra Modi for his "raincoat" jibe, and demanded that he apologise to his predecessor Manmohan Singh for insulting the office of Prime Minister.....
Gurudas Kamat Quits All Congress Posts
In a surprise move, senior Congress leader and AICC General Secretary Gurudas Kamat has quit all posts in the party, according to a statement here on Wednesday. ....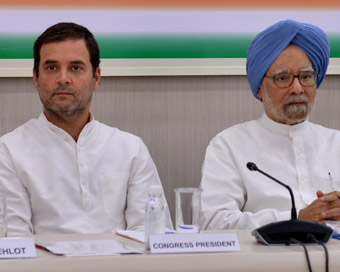 Congress Attacks Modi Government, To Launch Decisive Battle On Corruption
The Congress on Saturday stepped up its attack on the Modi government on the issue of corruption and took ownership of the National Register of Citizens while accusing BJP of using it as "divisive tool" as it decided to launch a "decisive battle" along with opposition parties against the BJP.....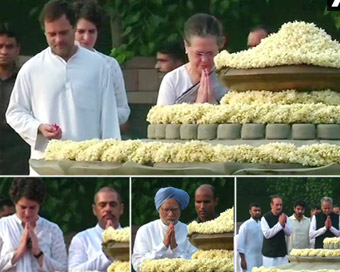 Rajiv Gandhi Remembered On His 74th Birth Anniversary
Congress President Rahul Gandhi along with his mother and UPA chairperson Sonia Gandhi paid homage to his father and former Prime Minister Rajiv Gandhi on his 74th birth anniversary on Monday.....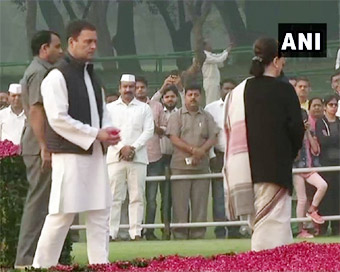 Manmohan, Sonia, Rahul Pay Tribute To Indira Gandhi
Former Prime Minister Manmohan Singh, UPA chairperson Sonia Gandhi and Congress President Rahul Gandhi on Wednesday paid tributes to late Prime Minister Indira Gandhi on her death anniversary. ....