Tag: Lok Sabha member
Modi Is Man From Nostradamus' Prediction, Says BJP MP
BJP's Lok Sabha member Kirit Somaiya on Monday said Prime Minister Narendra Modi is the man from French soothsayer Nostradamus' prophecy, who will take India to new heights.....
Kirron Kher On Defensive Over Advice To Gang Rape Victim
Bollywood actress and Chandigarh's BJP MP Kirron Kher was on the defensive on Thursday after she stirred a controversy by giving unsolicited advice to a young woman who was gang raped earlier this month here by an auto-rickshaw driver and his two accomplices. ....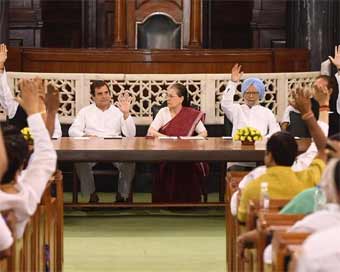 Sonia Gandhi Remains Congress Parliamentary Party Leader
UPA chairperson Sonia Gandhi will continue as the Congress Parliamentary Party leader as the newly elected members of the party in Lok Sabha once again elected her as the leader of the CPP during their first meeting on Saturday here.....
Shivpal Yadav Not In SP's List Of Star Campaigners
Former Samajwadi Party (SP) state president Shivpal Singh Yadav does not figure in the list of 40 'star campaigners' issued by the party for the first phase of the Uttar Pradesh state assembly elections.....
2 More AIADMK MPs Join Panneerselvam Camp
Two more sitting Lok Sabha AIADMK MPs on Sunday extended their support to acting Tamil Nadu Chief Minister O. Panneerselvam.....
Union Budget Lacks Vision, Neglects Women, Farmers : Dimple Yadav
Samajwadi Party leader and wife of Uttar Pradesh Chief Minister Akhilesh Yadav, Dimple Yadav on Wednesday dubbed the Union Budget as "vision and directionless" and said that it neglected the farmers and the women.....
Modi Gave Due Respect To Bhojpuri Language: BJP
The Bharatiya Janata Party (BJP) on Friday hailed Prime Minister Narendra Modi for giving Bhojpuri language its due "respect" after coming to power. ....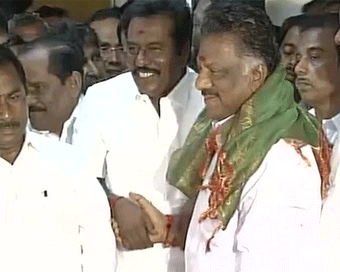 Panneerselvam Gains More Support Among Lok Sabha Members
Three more Lok Sabha AIADMK members on Sunday extended support to acting Tamil Nadu Chief Minister O. Panneerselvam.....
Six Youths Held For Raping Seven Kerala Orphanage Girls
Six youths were on Tuesday arrested for raping seven school girls, who are inmates of an orphanage near here, police said. ....
Showing 1 to 9 of 9 (1 Pages)
Samay
Tweets by @sahara_samay