Tag: Kolkata
Bhaichung Bhutia Quits Trinamool
Former Indian soccer captain Bhaichung Bhutia on Monday announced that he has resigned from the Trinamool Congress (TMC) and was no more associated with any political party.....
CBI Books Kolkata's RP Info Systems For Rs 515-crore Bank Fraud
The Central Bureau of Investigation (CBI) on Wednesday booked a city-based computer company RP Info Systems and its directors for allegedly defrauding a consortium of 10 banks of Rs 515.15 crore, an official said.....
CBI Lodges Case In Rs 4.12-crore Bank Fraud In Bengal
The CBI on Friday charged five directors of a West Bengal-based private company and eight State Bank of India (SBI) officials of criminal conspiracy in a case of bank fraud involving Rs 4.12 crore here.....
19th Century Poet Michael's Statue Defaced In Bengal
A life-size statue of Michael Madhusudan Dutt, a prominent poet during the 19th century Bengal renaissance, was found defaced in Raniganj of West Bengal's Purba Bardhaman district on Saturday, police and eye-witnesses said.....
IPL-2018: Mumbai Ride Ishan Blitz To Record Massive Win Over KKR
Mumbai Indians rode teenage wicketkeeper-batsman Ishan Kishan's 21-ball 62 to record an emphatic 102-run victory - the largest margin in the ongoing edition of the Indian Premier League (IPL) - over Kolkata Knight Riders at the Eden Gardens, Kolkata on Wednesday.....
Petrol Price Over Rs 85 In Mumbai, Crosses Rs 80 In Kolkata
Petrol price in Mumbai breached the Rs 85 a litre mark on Thursday and sold at Rs 85.29 per litre.....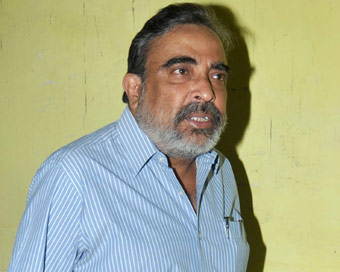 Senior Kolkata Journalist Arrested By CBI In Chit Fund Case
The Central Bureau of Investigation on Thursday arrested Suman Chattopadhyay, editor of a leading Bengali daily, in I-Core Group chit fund scam, an official said.....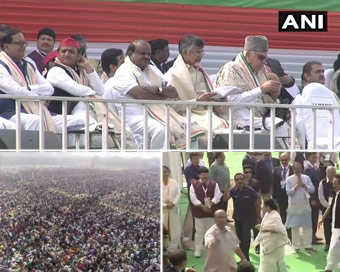 Tens Of Thousands Attend Bengal's Mega Anti-BJP Rally
Tens of thousands of enthusiastic workers and supporters, including a man on a wheelchair, attended the mega anti-BJP rally at the historic Brigade Parade ground here on Saturday raising their voices against Prime Minister Narendra Modi.....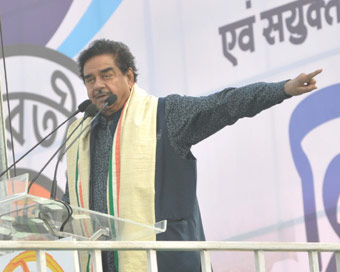 Shatrughan Sinha May Face Action, BJP Calls Him 'opportunist'
Actor-turned-politician Shatrughan Sinha is likely to face "action" for attending the opposition rally in Kolkata as the Bharatiya Janata party (BJP) on Saturday said it will take "cognisance" of it.....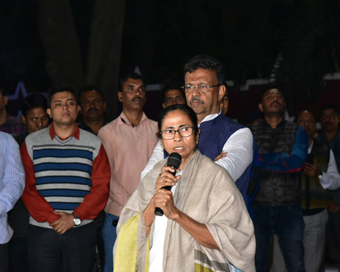 Unprecedented Confrontation: Mamata Resorts To Sit-in After CBI-police Face-off
In an unprecedented confrontation between the Narendra Modi-led Central and West Bengal governments, chief Minister Mamata Banerjee began a sit-in on Sunday here accusing the Centre of trying to run a parallel administration in states, saying there is a "constitutional break-down" after an ugly face-off between the CBI and the state police.....
Samay
Tweets by @sahara_samay