Tag: Kolkata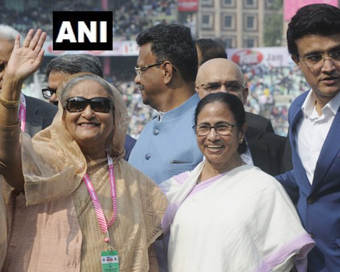 D/N Test: Hasina, Mamata Ring Customary Eden Bell With Ganguly
Bangladesh Prime Minister Sheikh Hasina and West Bengal Chief Minister Mamata Banerjee rung the customary Eden bell in the presence of BCCI President Sourav Ganguly, Bangladesh Cricket Board chief Nazmul Hasan Papon and batting legend Sachin Tendulkar among other dignitaries as the much-awaited first Day-Night Test in India got underway between India and Bangladesh on Friday.....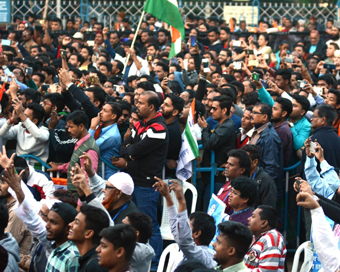 Thousands Walk Against CAA, NRC Sans Party Colours In Kolkata
Students, youths, celebrities, human rights activists, teachers, and common people walked together on the streets of Kolkata on Thursday in a rally organised mainly through a Facebook campaign against CAA and NRC.....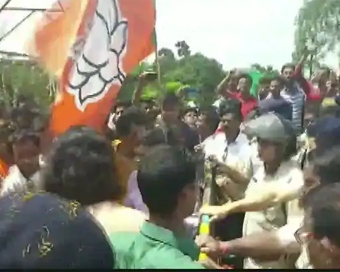 Police Stop BJP Rally; Tension In Hooghly, S Dinajpur
Tension broke out in West Bengal's Hooghly and South Dinjapur districts after processions brought out by the BJP backing the Citizenship Amendment Act (CAA) were stopped by the police on Sunday.....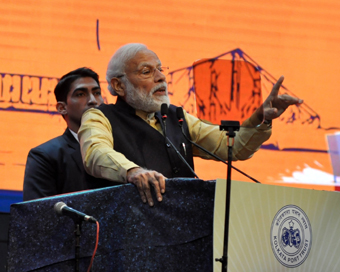 Some Political Parties Misleading People On CAA: Modi
Seeking the help of the youth to spread awareness about the new citizenship law CAA, Prime Minister Narendra Modi on Sunday alleged some political parties were not ready to understand the legislation and continued to fuel misconception about the Act which provides citizenship and does not snatch it.....
Sheena Bora Case: Mother, Step-dads Charged With Murder, Conspiracy
A Special CBI Court on Tuesday started the trial in the sensational Sheena Bora murder case by framing charges against her mother Indrani Mukerjea, and her two step-fathers - former media tycoon Peter Mukerjea and Kolkata-based businessman Sanjeev Khanna.....
Money Loot Common Thread Between 'Didibhai-Modibhai': Yechury
Cocking a snook at Prime Minister Narendra Modi and West Bengal Chief Minister Mamata Banerjee, CPI-M General Secretary Sitaram Yechury on Wednesday said "money loot" was a cmmon thread between the "Didibhai-Modibhai (Mamata-Modi) nexus.....
Body Of Actress Found In Kolkata Flat
The body of an upcoming model-turned actress Bitasta Saha was found at her South Kolkata apartment on Tuesday night, police said.....
Assamese Singer Sadananda Gogoi Gets Bail In Saradha Scam
Assamese singer Sadananda Gogoi on Thursday got bail from the Calcutta High Court in the multi-billion rupee Saradha ponzi scam after spending over 29 months in prison since his arrest by the Central Bureau of Investigation (CBI).....
England, Afghan Players Hit Jackpot In IPL 2017 Auction
English all-rounder Ben Stokes and pacer Tymal Mills emerged the hottest buys in the morning session of the Indian Premier League (IPL) auction, which saw as many as 33 players being bought by franchises while many big names missed out pick-up.....
Fire At Kolkata's Burrabazar Area Building
A major fire broke out at a multi-storied building in the commercial hub Burrabazar area in central Kolkata on Monday, police and fire brigade sources said.....
Samay
Tweets by @sahara_samay