Tag: Karni Singh
Jitu Gives India First Gold At Shooting World Cup
Two-time Olympian shooter Jitu Rai on Wednesday gave India the first gold at the Shooting World Cup, by clinching the yellow medal in the 50m mens air pistol event while his compatriot Amanpreet Singh settled for the silver in the same event at the Dr Karni Singh Shooting Range here.....
Jitu Settles For Bronze In Shooting World Cup
Ace pistol shooter Jitu Rai settled for the Bronze medal in the mens 10M Air Pistol event in the shooting World Cup at the Karni Singh Shooting Range here on Tuesday.....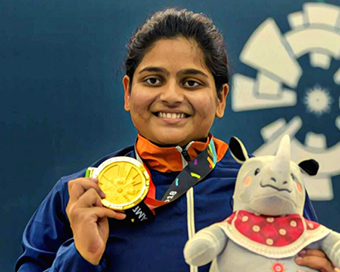 Shooting Trials: Rahi Beats Manu, Chinki In Women's 25m Pistol
Asian Games champion and 2020 Olympic quota holder Rahi Sarnobat held off a formidable field to win the T12 women's 25 metre pistol trials event at the Karni Singh Shooting range here on Wednesday. ....
Showing 1 to 3 of 3 (1 Pages)