Tag: ISI
Demonetisation A 'historic' Decision Towards Poor's Welfare, Says Jaitley
Finance Minister Arun Jaitley on Saturday termed the November 8 demonetisation as a "historic" and "bold" move towards welfare of the poor, while serving as crippling blow to terror, fake currency note racket, and insurgency.....
Portuguese PM Arrives In Goa
Portuguese Prime Minister Antonio Costa landed in Goa, late on Tuesday, on a three-day official visit to the coastal state.....
Pakistan Must Walk Away From Terror For Dialogue: Modi
Prime Minister Narendra Modi on Tuesday asked Pakistan to distance itself from terrorism if it wants a dialogue with India.....
British Foreign Secretary To Hold Talks With Modi
Visiting British Foreign Secretary Boris Johnson, who is to hold talks with Prime Minister Narendra Modi on Wednesday, has described the UK and India as "natural partners".....
Jallikattu Protests, A Lesson For Hindutva Forces: Owaisi
AIMIM leader Asaduddin Owaisi said on Friday the protests against the Jallikattu ban are a lesson for the Hindutva forces.....
Tamil Nadu Legalises Jallikattu With A New Law
Tamil Nadu on Monday passed a law legalising the conduct of Jallikattu - the popular bull taming sport - in the state which was banned by the Supreme Court in 2014.....
PM Felicitates 25 Children With Bravery Awards
Prime Minister Narendra Modi here on Monday presented the National Bravery Awards to 25 children from different parts of the country who have been selected for the honour by the Indian Council for Child Welfare (ICCW).....
Modi Greets NDRF On Its 12th Raising Day
Prime Minister Narendra Modi on Tuesday commended the National Disaster Response Force (NDRF) for its efforts in disaster response, rescue and relief.....
Trump Appeals Judge's Decision To Suspend Partial Travel Ban
The administration of US President Donald Trump on Saturday began the process of appealing the decision of a federal judge who suspended the application of an immigration ban to citizens of seven Muslim-majority countries, the media reported.....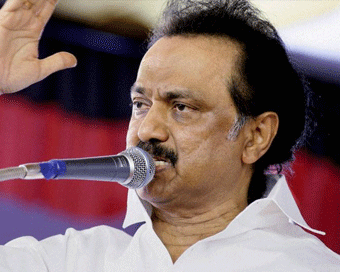 M.K. Stalin Likely To Visit Delhi
DMK Working President M.K. Stalin is likely to visit New Delhi to meet President Pranab Mukherjee, Prime Minister Narendra Modi and Home Minister Rajnath Singh to appraise them of the political situation in Tamil Nadu.....