Tag: Home Minister
Convince UNC Leaders To Withdraw Economic Blockade: Rajnath
Union Home Minister Rajnath Singh has asked the Nagaland Chief Minister T.R. Zeliang to convince the United Naga Council (UNC) leaders to withdraw the economic blockade in Manipur.....
39 Killed As Hirakhand Express Derails In Andhra
At least 39 people were killed and 50 injured when the Jagdalpur-Bhubaneswar Hirakhand Express derailed in Andhra Pradesh's Vizianagaram district, police said on Sunday.....
BJP List: Rajnath's Son To Contest In Noida
The BJP on Sunday released its second list of 155 candidates for the Uttar Pradesh assembly polls, fielding Home Minister Rajnath Singh's son Pankaj Singh from Noida.....
Can't Rule Out More Surgical Strikes: Rajnath Singh
Home Minister Rajnath Singh said India may go for more cross-border surgical strikes, if the need arises, to safeguard its territories.....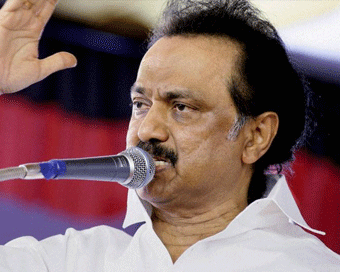 M.K. Stalin Likely To Visit Delhi
DMK Working President M.K. Stalin is likely to visit New Delhi to meet President Pranab Mukherjee, Prime Minister Narendra Modi and Home Minister Rajnath Singh to appraise them of the political situation in Tamil Nadu.....
Act Cautiously On Ramjas, Rajnath Tells Police
Home Minister Rajnath Singh on Monday said he was in touch with Delhi Police over the situation arising out of the Ramjas College clash.....
Prime Minister Greets People On Holi
Prime Minister Narendra Modi on Monday extended his greeting to the countrymen on the occasion of Holi, wishing the festival "spread joy and warmth everywhere".....
Congress MP Alleges Caste Discrimination In UP
Congress member in the Lok Sabha Ranjeet Ranjan on Thursday said Yadavs and some other castes were being targeted in Uttar Pradesh, and questioned the anti-Romeo squads formed in the state.....
Ensure Good Food For Paramilitary Troopers, Rajnath Tells Officials
Union Home Minister Rajnath Singh on Wednesday directed chiefs of all paramilitary forces to ensure good food for their respective troopers, an official said.....
Rajasthan Lynching Case Echoes In Parliament; Rajnath Promises Justice
The opposition in both houses of Parliament on Thursday raised the issue of lynching of a Muslim man in Rajasthan's Alwar district by cow vigilantes, with a Congress leader blaming an "organised gang" and the government promising justice.....