Tag: Holi
Essential Tips For Well-being On Holi
Ensure wearing clothes that cover most your skin, and avoid sitting in the sun if you're full of colour, suggests an expert ahead of Holi, which falls on March 13.....
Avail Discount On LeEco Superphones On Snapdeal
Chinese internet and technology conglomerate LeEco has come up with attractive offers and discounts on its superphones on online marketplace Snapdeal's Holi Sale from March 10 to 13. ....
Akhilesh Extends Holi Greetings
Outgoing Uttar Pradesh Chief Minister Akhilesh Yadav on Saturday greeted the people ahead of the festival of Holi.....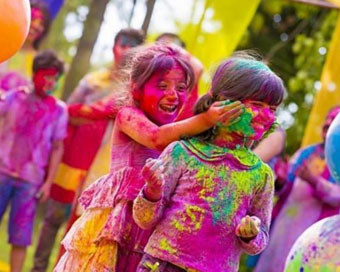 Happy Holi 2020: WhatsApp Wishes, Messages, SMS, Status, Quotes & Greetings
Holi is a festival that is loved by people of all age. Celebrated across India in one form or the other, Holi heralds spring and declares end of the winter season. The Festival of Colours is here, it's time to wish your friends, family members and acquaintances Happy Holi wishes and love.....
Happy Holi 2017 Facebook Cover, Wallpapers And Images..
Get the Happy Holi 2017 Facebook covers. Known as the festival of colours, Holi bursts with happiness and zeal as people celebrate by playing with colours. Hindu spring festival is also called festival of love.....
10 Drown During Holi Celebrations In Telangana
Tragedy struck Holi celebrations in Telangana as at least 10 persons were killed and two went missing in various incidents of drowning across the state on Sunday, officials said.....
This Holi Protect Hair With Coconut Oil: Deepika
Actress Deepika Padukone, who will be celebrating Holi with her family, on Monday said coconut oil can protect hair from colours on this festive occasion.....
Hola Mohalla Marked With Festive Spirt In Anandpur Sahib
Tens of thousands of people converged on this Sikh holy town on Monday to be part of the Hola Mohalla festival.....
BJP Used Money To Win Power In Goa: Digvijay
Congress leader Digvijay Singh on Monday took on the BJP for wooing smaller parties and independents to form the government and keep the Congress, the single largest party, away from power in Goa.....
Vibrant Colours, Joy, Mark Holi Celebrations In Delhi
Pink, yellow, red, purple -- the vibrant colours of Holi spread joy, as young and old celebrated the festival, smearing coloured gulal on each other and exchanging sweets in the national capital on Monday. ....