Tag: Himachal Pradesh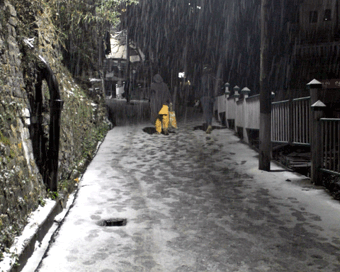 Shimla, Manali Cut Off After Snow, Traffic Hampered
Traffic to tourist destinations Shimla, Manali and Dalhousie were cut off from the rest of Himachal Pradesh on Saturday following heavy snowfall overnight, officials said. ....
Tourists Flock To Himachal After Widespread Snow
Shimla, Manali and other parts of Himachal Pradesh are wrapped in a blanket of snow to the glee of tourists. There was more snowfall on Monday.....
Mild Earthquake Hits Himachal
A moderate intensity tremor rocked Himachal Pradesh on Thursday, while authorities said no loss of life or damage to property has been reported from anywhere so far.....
India V Australia At Dharamsala, 4th Test : Debutant Kuldeep Helps India Dismiss Australia For 300
Debutant left-arm wrist spinner Kuldeep Yadav's four wickets helped India skittle out Australia for 300 in their first innings on the opening day of the fourth and final cricket Test here on Saturday.....
Nathon Lyon With 4/67 Gives Australia Advantage In 4th Test
Off-spinner Nathan Lyon captured four wickets in the final session to hand Australia the advantage on the second day of the fourth and final cricket Test against India here on Sunday.....
India V Australia At Dharamsala, 4th Test : India Beat Australia To Win Series
India defeated Australia by eight wickets in the fourth and final Test at the Himachal Pradesh Cricket Association (HPCA) Stadium here on Tuesday.....
SC Bans Hotels, Restaurants Along Highways From Serving Liquor
The Supreme Court on Friday said hotels and restaurants falling within 500 metres on either side of the national and state highways cannot serve liquor.....
Rohtang Pass Reopened For Motorists
The majestic snow-marooned Rohtang Pass, located at an altitude of 13,050 feet in Himachal Pradesh's Kullu district, has been reopened for motorists after four months of closure, officials said here on Sunday. ....
Himachal To Vote On Nov 9, No Dates For Gujarat Yet
Himachal Pradesh will go to polls on a single day on November 9 to elect a new assembly, the Election Commission announced on Thursday without finalising a schedule for Gujarat, drawing sharp criticism from the Congress which accused the Centre of putting pressure on the poll panel. ....
Congress Minister Joins BJP In Himachal, Another May Follow
Himachal Cabinet Minister Anil Sharma on Sunday resigned from the government and the ruling Congress and joined the opposition BJP along with his father and former Telecom Minister Sukh Ram.....